GameMastery Encounter: Grove of the Mad Druid (OGL) Compleat Encounter
Paizo Inc.
Grasker has never been exactly "normal." Obsessed with the filth, decay, and corruption of the natural world, he has recently been exiled for violently defending the carrion pit that had been his home. Now withdrawn into the wilderness, he has slowly begun to transform the surrounding landscape into a perverted paradise of worms and rotting flesh. Can the PCs stop the corruption before it spreads through an entire forest?
A Compleat Encounter, scalable to any level, featuring a mad druid, his compost elemental servant, and a magical stone menhir.
• Written by James Jacobs
• Designed by Andrew Hou
• Sculpted by Dennis Mize
• Cartography by Corey Macourek
Paizo Publishing's GameMastery™ Line is designed to help GMs run interesting games quickly and efficiently.
Compleat Encounters provide everything you need to run a single encounter:
3 brilliantly sculpted, high-quality, 25mm-scale one-piece metal miniatures
4 double-sided full-color 5"x8" minis-scale map cards
a detailed level-scalable microadventure with statistics compatible with the world's most popular roleplaying game.
"Adventure Only" products include only the adventure and map cards, and do not contain the miniatures.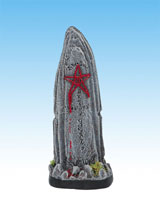 Miniatures painted by Keith Robertson.
(The product includes unpainted metal miniatures.)
Product Availability

---
Unavailable
Are there errors or omissions in this product information? Got corrections? Let us know at store@paizo.com.
PZO2006
---
See Also: