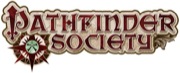 Undercover Society
The Pathfinder Design Team recently released a second round of the Pathfinder RPG Ultimate Intrigue playtest, listening to the community's feedback and using it to improve the class.
More Paizo Blog
.
---
Tags: Eric Braddock Pathfinder Society Ultimate Intrigue
---

Put on Your Sneaking Shoes
Recently, we released Pathfinder Module: Fangwood Keep by veteran Pathfinder Society author Alex Greenshields. This adventure holds a special place in my heart for a few reasons. First, on a personal level, it was Alex who first ran me through a Pathfinder Society scenario (Pathfinder Society Scenario #1: Silent Tide way back in 2008) and he's been a constant contributor to my other passion, the PathfinderWiki, for nearly just as long. It makes me happy to see him get his first printed cover credit in a Pathfinder product, and on such an amazing adventure, too!
More Paizo Blog
.
---
Tags: Eric Braddock Iconics Merisiel Pathfinder Modules Rogues
---

Versatility is a Human Virtue
Versatility is a Human Virtue Tuesday, April 24, 2012 ... Illustration by Eric BraddockWhen planning out Advanced Race Guide we knew that humans were going to give us some trouble. What do you give the race that has the cleanest slate and the most open-ended bonus options? We sat down and had to ask what makes humans... well, human. ... We came up with a short list of human virtues. One of the strongest human virtues on the list was versatility. Humans are downright tenacious in their ability...
More Paizo Blog
.
---
Tags: Druids Eric Braddock Pathfinder Roleplaying Game Races
---