Meet the Iconics: Valeros
Meet the Iconics: Valeros Wednesday, June 30, 2010 Over the last few years, we've made a habit of writing up introductions to our iconic characters, offering insight into who they are, where they come from, and their motives for adventuring. Just last week we presented our oracle, Alahazra, as the first of the new iconics from the base classes in the Pathfinder RPG Advanced Player's Guide. Yet as we did so, we realized that we'd forgotten someone very important: our iconic fighter, Valeros!... More Paizo Blog

.
---
Tags: Cayden Cailean Fighters Iconics Meet the Iconics Valeros Wayne Reynolds
---

Two brewers
... Two brewers Sun, Jun 20, 2010 at 12:11 AM PacificAn Alchemist and a Priest of Cayden Cailean recline at the banquet. ... Ross Byers ... Assistant Software Developer
More Paizo Blog
.
---
Tags: Alchemists Cayden Cailean Clerics Costume PaizoCon
---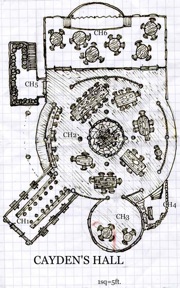 Good Maps Make for Good Adventures
... Good Maps Make for Good Adventures Thursday, February 4, 2010Nothing ruins a session of Pathfinder RPG more than a badly drawn map. You sit in your chair, your character sheet and dice firmly in hand, and stare at the crudely drawn map the GM sketched on the mat, struggling to discern exactly what those squiggles on the board are supposed to be. ... So, where's the door? you ask and the GM points to a series of more complicated squiggles in the mass of squiggles. You put your mini down on...
More Paizo Blog
.
---
Tags: Cayden Cailean Maps Pathfinder Society Tim Hitchcock
---