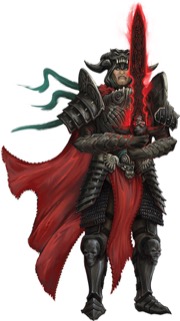 For Evil to be Victorious, it Needs Good Help!
For those of you without a maligned past or similarly dark ambitions, there are evil patrons aplenty—from the Aspis Consortium to the Whispering Way—who willingly seek agents to do their bidding. For those of you with a more religious bent, the fouler gods of Golarion have much to offer. Even those less vile followers of such deities are given their fair respect in this book. Asmodeus too takes his rightful place here, and for those of you foolish enough to combat the rightful rule of House Thrune, you may find yourself interested in hearing about the Devil Impostors—summoners whose eidolons imitate the traits of hellspawn.
More Paizo Blog
.
---
Tags: Andy Timm Kez Laczin Pathfinder Player Companion Sally Gottschalk
---
Calling All Miscreants and Malefactors!
Get ready to get evil with Pathfinder Player Companion: Champions of Corruption! The latest volume in the Player Companion line provides players and GMs alike with suggestions on how to take their Pathfinder game to the dark side without pushing it over the edge of fun. Rather than tantalize you with mere words, however, I figured I'd let for the pieces in this book of vileness speak for themselves. In addition to dozens of new character traits, feats, and much, much more, the following features (and their accompanying art) are just some of the all-new content you'll find in this spine-tingling Player Companion.
More Paizo Blog
.
---
Tags: Andy Timm Chen Nambiarooran Iconics Pathfinder Player Companion Seltyiel Vicky Yarova
---