Almuric (Trade Paperback)
Paizo Inc.

(based on

8

ratings)
by Robert E. Howard, with an introduction by Joe R. Lansdale
The creator of Conan looks to the stars in one of fantasy's most enduring science fantasy classics!
Robert E. Howard's Almuric is a savage planet of crumbling stone ruins and debased, near-human inhabitants. Into this world comes Esau Cairn, Earthman, swordsman, murderer. Only he can overthrow the terrible devils that enslave Almuric, but to do so he must first defeat the inner demons that forced him to abandon Earth.
Filled with vile beasts and thrilling adventure in the tradition of Edgar Rice Burroughs, Almuric is one of Howard's few novels, and an excellent yarn from one of America's most distinct literary voices.
160-page softcover trade paperback ISBN: 1-60125-043-6
ISBN-13: 978-1-60125-043-8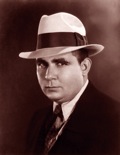 About the Author
Born in Peaster, Texas, Robert Ervin Howard (1906–1936) is cited by many as the father of the sword-and-sorcery genre. With his action-packed style and such notable characters as Kull, Solomon Kane, Red Sonya, and the instantly recognizable Conan the Cimmerian, Howard rose quickly to become one of the greatest pulp authors of all time, publishing hundreds of stories that dominated the pages of Weird Tales. In addition to fantasy, Howard also achieved substantial success in genres from western to horror, and alongside his success with Conan is equally known for his contributions to the Cthulhu mythos through correspondence with H. P. Lovecraft and Clark Ashton Smith. Though his career was cut short by his suicide at the age of 30, Howard remains an icon of the pulp era, and the characters he created continue to inspire film, games, and other media, giving him an impact on the fantasy genre that's still felt a century after his birth.
Product Availability

---
Unavailable
Are there errors or omissions in this product information? Got corrections? Let us know at store@paizo.com.
PZO8002
---
See Also:
---
---