Now that Gen Con is behind us, it's time to once again resume our weekly look at the next wave of Pathfinder Battles pre-painted plastic miniatures from WizKids, October's Kingmaker!
This week we explore a few figures in the set that are more than their initial appearance might suggest, either due to the creatures' special abilities or hidden histories. First among these deceptive creatures is the wild spriggan, a common Small figure. While these goblin-like relatives of gnomes are only a few feet tall in their normal form, they can transform into hulking brutes in an instant. The large spriggan is a Large uncommon figure, meaning most GMs should get enough of spriggans across both sizes to build a sizable (pun fully intended) war band.
While changing size is a pretty neat ability, it doesn't necessarily help spriggans hide from potential prey or lurking threats. For that ability, one need look no farther than the gargoyle, which appears in two different forms in Pathfinder Battles: Kingmaker. The first, an uncommon Medium figure places the creature on a standard round base, and depicts it in an action-packed battle pose, while the second, a similarly sized, unbased piece of dungeon dressing, appears as an intricate but completely benign statue adorning a gothic rooftop. While the pictured images depict the figures painted different colors, we asked WizKids to standardize their coloration across the two figures so a GM could place the latter as "set dressing" and then swap it for the former when the creature reveals its true nature. When we get final production samples, we'll update the images from these digital renders to actual photographs.
Finally, we have the first of our weekly previews of the set's many player character-appropriate miniatures, based off the companions from the forthcoming Pathfinder: Kingmaker computer RPG from Owlcat Games (launching worldwide on September 25)! While I won't reveal the exact nature of this figure's secret, I will say that Tristian, Human Cleric—a Medium uncommon figure—is perhaps the most enigmatic and inscrutable companion in the game, and his storyline is one I'm most excited to see the community uncover when the game comes out. Armed with a Sarenite holy symbol, Tristian makes a great stand-in for clerics of the Dawnflower in any Pathfinder campaign.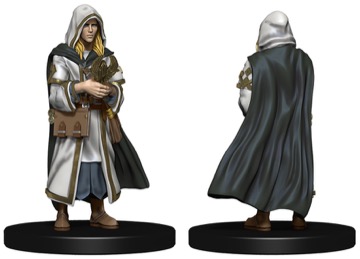 Mark Moreland
Franchise Manager