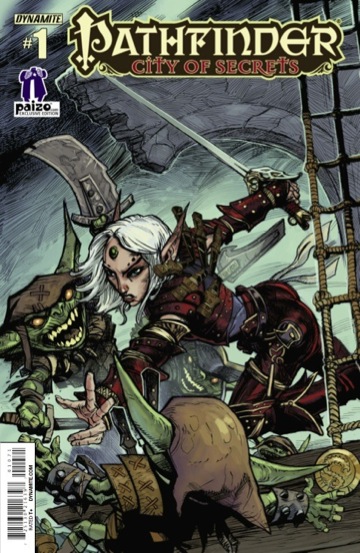 In case you missed yesterday's exciting announcement, the latest Pathfinder comic story arc, City of Secrets, launched yesterday to a comics shop invasion! We're still receiving isolated reports from far-flung Pathfidner agents that a few limited-edition Retailer Exclusive issues are still available among the brick and mortar retailers, but even if they aren't you can still secure your own copy of the Paizo.com exclusive cover variant and not miss a moment.
Author Jim Zub was kind enough to provide us with page-by-page story commentary, so you can follow along with the creative process!
Page 1: Starting up a new story arc and a new issue #1, it's nice to get a brief reintroduction to our adventuring heroes. Leandro does a wonderful job of illustrating the cast, following the detailed style of the Pathfinder game very closely.

Page 2-3: A tough shot but Leandro pulls it off beautifully. The city of Magnimar has really specific geography, a distinctive look and feel I wanted to make sure was well established as the characters arrived in their new home.

That huge ruined bridge in the background is the Irespan, a remnant of a much earlier time. The shadow beneath that impressive monument is called, appropriately enough, Underbridge and the Shadow District. That's where the poor and downtrodden find themselves, as well as some of the more unsavory characters of Magnimar.

Having a small excerpt from the Pathfinder Chronicles at the start of each issue is a useful way to fill in a bit of back story and give readers extra appreciation for the depth and care the Paizo crew have put into designing their fantasy world.

Page 4: The group left Sandpoint at sunset and, about 24 hours later, arrives in Magnimar at sunset as well.

Gauging each of their reactions to the city was fun to put together.

Page 5: In the second story arc we started a relationship between Kyra, the Cleric, and Merisiel, the Rogue. Readers have responded well to these two opposites coming together and this story arc carries on that relationship, giving them some new challenges to overcome.

Page 6: Speaking of Kyra and Merisiel, the two ladies got themselves into an overnight caper in our super-sized Pathfinder Special and we tie into that here. It's a fun done-in-one story that deepens the bond between the two of them.

Page 7: When the group was in Sandpoint or on the road Seoni had a clear understanding of how to lead them, but now that they're in the city the group is pulled apart by their different goals and responsibilities. If you've ever played a tabletop RPG this is actually a pretty typical scenario. City encounters tend to involve lots of splitting up and prep before the next big adventure. I wanted to reflect a bit of that and show how varied everyone's approach is to their first day in Magnimar.

Page 8-11: Ezren's age leads everyone to assume he has a great deal of wisdom and experience, but the truth is that he's kind of a tragic figure. He didn't start training and adventuring until quite recently and that lost time weighs heavily on him. It's a feeling of inadequacy that he struggles with and something I want to explore with him in this story arc.

Sheila Heidmarch is a well known figure from the Pathfinder setting material. She's powerful, confident, and beautiful – an intimidating combination, especially to someone like Ezren. Her capabilities reflect exactly how much time he wasted in his youth.

Page 12-13: Unlike many dwarves, Harsk loathes the city. He hates the hustle and bustle of city living and finds the social etiquette required to coexist so close to so many other people frustrating and unnecessary. Writing Harsk in the city was a challenge, but I like putting him out of his element. Thankfully Alabastar Park is more his speed.

Page 14-15: Valeros was at the forefront of the action in our first story arc so it felt like a good idea to have him ease back a bit here and let others push the plot forward. Val's feeling a bit cocky after the group's previous successes and doesn't realize that in many ways the city is even more dangerous than the open wilderness and dungeons they've tackled before.

Page 16-17: Kasadei arrives and the plot thickens. Like our second story arc, this one uses material from a Pathfinder adventure as a base structure to build our story from. In this case it's a short adventure scenario called "Dawn of the Scarlet Sun" written by James Jacobs. James and I chatted at Gen Con last year and came up with some fun ways to incorporate material from that adventure in with my ongoing plans for the evolution of the Pathfinder storyline.

Page 18: Having an ensemble cast of six main characters means that when the group splits up I have to jump around quite a bit to make sure everyone gets enough "air time".

I like the contrast between Merisiel's "Devil may care" attitude and Kyra's pious confidence. The two of them are so very different, but I think that's why they make such a good couple. They teach each other about a life the other has never lived and they're both stronger for it.

Page 19: Background info as someone spies on them from the shadows. Events have taken place in Magnimar before our adventuring heroes arrived and other things will happen once they leave. Giving an environment a sense of history is important as it helps build that impression of a larger living fictional setting.

Page 20-21: Faith can be a touchy subject, but I really like writing Kyra because her faith in this fantasy world is so different than our own. In the world of Golarion people know the gods exist because they have immediate proof. Deities give their followers access to powerful magic and heed their prayers. In that world it's not a matter of belief, it's more about choice. Do you choose to follow a deity and look to them for guidance or do you strike out on your own? Kyra and Merisiel embody those two extremes.

Page 22: Merisiel let her guard down as she was emotionally overwhelmed by the power of Kyra's prayers and now they've got problems.

Even though there isn't any full blown action this issue, there's an atmosphere of tension that runs through this first chapter as we showcase each character and set pieces in motion, prepping everything for the dangers ahead.

Who are these well-armed bandits and what do they want with our adventuring pair? Read onto issue #2 and find out as Pathfinder: City of Secrets continues with action and intrigue aplenty!
And don't forget that our Heroes of Magnimar contest will be wrapping up soon! If you want your characters to be enshrine in Golarion canon forever, head on over to our contest page and learn how to submit!