Greetings, Miniatures Fiends! I am on the road in New York City for the annual Book Expo America show, where Paizo joins the ranks of hundreds and hundreds of publishers to show off its wares to book buyers and librarians. That means I'm about 3000 miles from my archive of Pathfinder Battles photos, but mere distance is not sufficient to keep me from the holy calling of showing off new Pathfinder Battles prepainted fantasy miniatures sculpts from August's Skull & Shackles set!
Last week our friends from WizKids brought over production samples of the entire set of 55 figures, including the massive Gargantuan Skeletal Dragon. Many a squee was heard from the Paizo conference room, as all in attendance agreed that WizKids has raised the bar AGAIN, producing a set that exceeds the standards of its predecessors in both sculpt and paint quality. The final paint jobs are just amazing. "THIS IS A COMMON!??!?" was probably the most-heard phrase of the meeting, and we're all very excited to spread that enthusiasm for the final product beyond the hallowed walls of Paizo when the set releases in August.
So let's move on from the bragging and pride and get to the reason you came. Let's look at a couple new minis!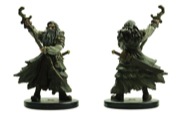 In the Skull & Shackles campaign, the Master of the Gales serves on the Pirate Council of the Shackles and captains his own pirate ship, but to me this bearded fellow with an imposing staff works great for a HUGE variety of NPCs or PCs, from your nasty druidic hermit to your unkempt grumpy wizard. This Medium figure is slated at the uncommon rarity.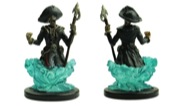 Sometimes, pirate lords stick around long after they've died. Such is the case with the insidious Whalebone Pilk, a skull-collecting cursed undead pirate who makes for one of the spookiest opponents in the Skull & Shackles campaign. Accordingly, we've worked with WizKids to make him as spooky as possible. With plenty of clear plastic to depict the miasma in which he floats, a nifty pirate outfit, and a nasty spear, this is one encounter your players will never forget. Whalebone Pilk is a Medium-sized rare figure.
And with that, I'm back to the Book Expo. Now that we have the full set's production figures in house, expect some amazing treats in store over the next few weeks! Some of the best figures in the set are still yet to be revealed!
Make sure you don't miss a single figure by setting up an ongoing Pathfinder Battles subscription today!
We'll see you next week!
Erik Mona
Publisher