The Crusader Road Sample Chapter
In The Crusader Road, Michael A. Stackpole (New York Times best-selling author of X-Wing: Rogue Squadron) brings you a new novel of frontier adventure that offers a taste of the setting featured in the new Pathfinder Online massively multiplayer online roleplaying game. When the aristocratic Vishov family has been banished from Ustalav due to underhanded politics, Lady Tyressa Vishov is faced with a choice: fade slowly into obscurity, or strike out for the nearby River Kingdoms and establish a new holding on the untamed frontier. Together with her children and loyal retainers, she'll forge a new life in the infamous Echo Wood, and neither bloodthirsty monsters nor local despots will stop her from reclaiming her family honor. Yet the shadow of Ustalavic politics is long, and even in a remote and lawless territory, there may be those determined to see the Vishov family fail...
More Paizo Blog
.
---
Tags: Michael A. Stackpole Pathfinder Online Pathfinder Tales Robert Pitturru
---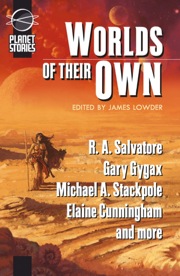 Drizzt in an X-Wing
... Drizzt in an X-Wing Tuesday, July 15, 2008Do I have your attention yet? I thought so. That's one nice thing about nerd culture (a term I use in the most affectionate way)—we've got some easily recognizable triggers. For better or for worse, there are certain touchstones that all of us in a given nerd subgroup are familiar with (and no, I don't mean lolcats). I'm talking about the big stuff—the media that shaped our favorite genres so irreversibly that there's really no...
More Paizo Blog
.
---
Tags: Michael A. Stackpole Planet Stories R. A. Salvatore Star Wars Worlds of Their Own
Sign in to start a discussion.
---