The Crusader Road Sample Chapter
In The Crusader Road, Michael A. Stackpole (New York Times best-selling author of X-Wing: Rogue Squadron) brings you a new novel of frontier adventure that offers a taste of the setting featured in the new Pathfinder Online massively multiplayer online roleplaying game. When the aristocratic Vishov family has been banished from Ustalav due to underhanded politics, Lady Tyressa Vishov is faced with a choice: fade slowly into obscurity, or strike out for the nearby River Kingdoms and establish a new holding on the untamed frontier. Together with her children and loyal retainers, she'll forge a new life in the infamous Echo Wood, and neither bloodthirsty monsters nor local despots will stop her from reclaiming her family honor. Yet the shadow of Ustalavic politics is long, and even in a remote and lawless territory, there may be those determined to see the Vishov family fail...
More Paizo Blog
.
---
Tags: Michael A. Stackpole Pathfinder Online Pathfinder Tales Robert Pitturru
---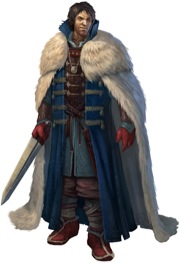 Bundle Up!
As we ease into February, we're getting ready to launch the Reign of Winter Adventure Path and we thought we'd share a bit of art with everyone from the first volume, "The Snows of Summer" by Neil Spicer. I've been filled with anticipation for this Adventure Path's release, and I can't wait for all of you to see it too. The overall look of the AP is amazing, and credit for this goes to the Art Department and their stable of excellent artists. I'll talk a bit more about the Adventure Path as a whole a little later when we release the Reign of Winter Player's Guide, so keep your eyes open for that announcement here on the blog. For now, feast your eyes on these wonderful pieces of art!
More Paizo Blog
.
---
Tags: Dmitry Burmak Dmitry Prosvirnin Pathfinder Adventure Path Reign of Winter Robert Pitturru
---