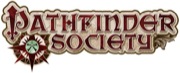 The Monsters of Adam Vehige
The Monsters of Adam Vehige Thursday, February 5, 2009 Adam Vehige has been responsible for four of the cover monsters for the first fourteen Pathfinder Society scenarios: the sahuagin from The Hydra's Fang Incident, the ape from Mists of Mwangi, the zombie from Among the Living, and the giant crocodile from Eye of the Crocodile King. ... For Pathfinder Society Scenario #15: The Asmodeus Mirage (coming this month), Adam brings us the imp, a little red devil perched on the skull of an...
More Paizo Blog
.
---
Tags: Adam Vehige Monsters Pathfinder Society
Sign in to start a discussion.
---

Covers Unfettered!
... Illustration by Kevin Crossley ... Illustration by Adam Vehige ... Covers Unfettered! Friday, October 17, 2008 As I've said before, I love my job! I get to take a look at things and see stuff before it comes out. As a gamer and as a fan, that right there is worth the price of admission. One of the things I like most about our products is our great artists and the fantastic illustrations they produce for us. Sometimes, however, a particular piece of art cannot come to the fore, as it's...
More Paizo Blog
.
---
Tags: Adam Vehige Kevin Crossley Monsters Pathfinder Society Pathfinder Society Scenarios
---