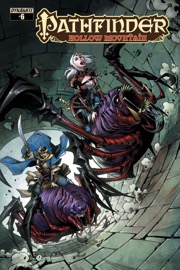 The Mechanics Behind the Comics
The final issue of Pathfinder: Hollow Mountain releases today, written by yours truly and drawn by the illustrious Sean Izaakse! Can Pathfinder's most heroic and villainous iconics overcome their differences long enough to defeat the demonic Castellan? Will Ezren teach Seltyiel the true value of friendship? Will Oloch and Valeros finally kiss? There's only one way to find out, and it's hitting your local comics shop as we speak!
More Paizo Blog
.
---
Tags: Hollow Mountain Pathfinder Comics
---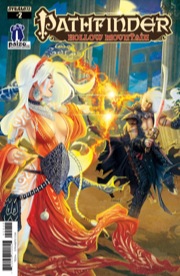 Let's Be Bad
The second issue of Pathfinder Hollow Mountain just debuted, bringing along with it an unsettling revelation. As it turns out, Seoni, Valeros, Kyra, Merisiel, and Ezren aren't the only adventurers exploring Thassilon's ruins. Demons and undead, deadly traps and lethal magic fill the ancient halls of Hollow Mountain, but those threats pale in comparison to four of Pathfinder's most unscrupulous iconics: Meligaster, Damiel, Oloch, and—of course, my personal favorite—Seltyiel.
More Paizo Blog
.
---
Tags: Hollow Mountain Pathfinder Comics
---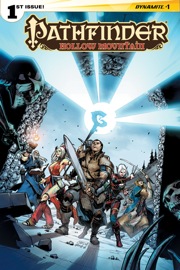 Hello, Mountain!
Pathfinder: Hollow Mountain is the new comic series from Dynamite, written by me, Wes Schneider, and Erik Mona. We're the same team who brought you Pathfinder: Origins, but this time instead of doing six mostly independent stories from the iconic team's past, we're hopping back to the present and taking them on a brand new adventure.
More Paizo Blog
.
---
Tags: Hollow Mountain Pathfinder Comics
---