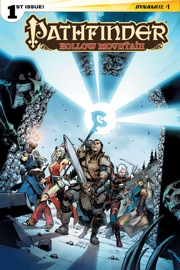 It's November, and you all know what's special about this month, right?
No, not turkey. (Though I guess eating an evolved dinosaur is pretty cool, in a "mammalian pride" sort of way.)
No, not elections, either. I mean, democracy's great and all, but let's get our priorities straight here, people.
No, November's special because this is the month when the first issue of Pathfinder: Hollow Mountain releases!
I'll give you a moment to catch your breath and clean up the coffee mug you just dropped in your excitement. Ready? Okay.
Pathfinder: Hollow Mountain is the new comic series from Dynamite, written by me, Wes Schneider, and Erik Mona. We're the same team who brought you Pathfinder: Origins, but this time instead of doing six mostly independent stories from the iconic team's past, we're hopping back to the present and taking them on a brand new adventure.
But where to take them? When we got the go-ahead to pitch a new series arc, we pretty quickly came up with two key criteria. First, the series should involve a dungeon—given how central the idea of a dungeon is to our game and to RPGs in general, it seemed like we were well overdue for a true dungeon crawl. And second, we wanted to do something continuity-heavy—something that a lot of fans of the game would recognize. After all, one of the advantages of having three of Pathfinder's lead creators writing the scripts meant that we could probably be trusted to play with some of the big toys. We wanted a megadungeon that would be instantly recognizable to longtime players of the game.
Immediately, our thoughts turned to Hollow Mountain. That giant face on the side of a mountain had been taunting us since Pathfinder Adventure Path #1. While we'd already published a high-level overview of it in Dungeons of Golarion, we'd never actually sent characters face-to-face with its horrors. Plus, the chance to illustrate Runelords in the comics? Hell yes!
Yet as much fun as it is to see some of our most notorious villains come to life in the pages of issue #1, the biggest appeal for me was much more personal.
See, back before the comic series and the Big Finish audio dramas, the only time we ever got to hear the iconics actually talk was in the little chapter opener fiction snippets in the hardcover books. And with a handful of exceptions, I've written every one of those for the last 6 years. (If you've ever wondered why the characters seem to be constantly making fun of each other, it's because I find it hilarious!) So after spending more than half a decade helping to develop the iconics' personalities in 100-word bursts, it was a joy to finally get to write scenes with the whole team, showing how they work together in combat, express affection for each other (under that armor, Valeros is a big ol' softy)—and, yes, make fun of each other at every possible opportunity.
Of course, it's not just the main iconic team I'm excited to write. There are some other very familiar faces you're going to be seeing over the course of this series. But I'll let Wes talk about those next month...
See you all at the comics shop!
James L. Sutter
Executive Editor