Behind the Emerald Spire, with Lisa Stevens and Wolfgang Baur
The Emerald Spire Superdungeon is the largest Pathfinder Modules product ever produced, a record that's unlikely to be taken from it anytime soon. With its release in just a few short weeks, we want to make sure it gets the attention and celebration it deserves. At 160 pages, with 16 levels (by 16 different authors), eight brand-new monsters, enough material to take players from 1st to 13th level and several major mysteries, there's a LOT of Emerald Spire features to highlight!
More Paizo Blog
.
---
Tags: Ben Wooten Ben Wootten Emerald Spire Interviews Pathfinder Modules
---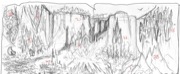 Mapping the Abyss
Among the three maps in the Wrath of the Righteous Poster Map Folio is a player-oriented, illustrated map of the Abyss. It is a thing of beauty and I think Ben Wootten really outdid himself with this map. Anyone who's picked up the last few Poster Map Folios have undoubtedly seen Ben's illustrated maps for the Shackles, Varisia, and Irrisen, but this one goes above and beyond.
More Paizo Blog
.
---
Tags: Ben Wooten Maps Pathfinder Adventure Path
---