Looting the Treasure Chest

Tuesday, October 9, 2007

We've received quite a few questions about the GameMastery Treasure Chest over the past several weeks and I thought I would take a moment to give you the skinny on this box full of goodness.

This box gives you a wide assortment of our most popular GameMastery products, including an original adventure (TC1: Into the Haunted Forest) that ties together all the products into one "deluxe" game experience. Here's what the box contains.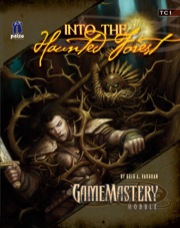 TC1: Into the Haunted Forest
Critical Hit Deck
Item Cards: Elements of Power
Campaign Workbook
Map Pack: Inns
Flip-Mat: Woodlands

Now, if you happen to own a bunch of these products, but still want the module, no worries. TC1: Into the Haunted Forest will be available separately for just $5 (note that this module is not part of the subscription deal, so if you want it, you will need to order it as normal). As for the module itself, you do not need these products to run the adventure, but they do include all the maps and treasure cards used in the adventure. (Incidentally: TC stands for "Treasure Chest," in case you're wondering.)

Hope that clears things up, but if you have any further questions, feel free to post them to our messageboards.

Jason Bulmahn
GameMastery Brand Manager
More Paizo Blog
.
---
Tags: Cards GameMastery Map Packs Maps Pathfinder Modules
Link
.
Sign in to start a discussion.