Iconic Encounter: Obozaya's Mayhem Playlist
Obozaya peeked over the rocky ridge. There was still just one of the creatures guarding the entrance, less than fifty feet away. The tunnel mouth behind it was nothing special—just a dark hole in the side of the hill. Yet this was where the footage had shown the creatures taking her crew.
More Paizo Blog
.
---
Tags: Iconic Encounters Obozaya Soldiers Web Fiction
---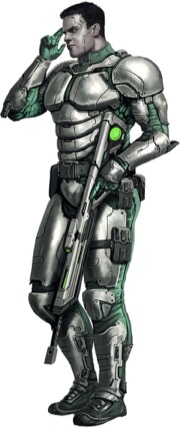 Class Preview: The Soldier
As soon as we announced Starfinder, there were fans that wanted to know what kind of options there would be for the heavy-armor-wearing, magic-plasma-cannon-firing, jet-packed combatant character. While any Starfinder character can do those things if they dedicate themselves to getting the needed resources, the character who does it most easily (and gets the most class features designed to work with such actions) is the soldier. This is the description the soldier gets in the Starfinder Core Rulebook:
More Paizo Blog
.
---
Tags: Soldiers Starfinder
---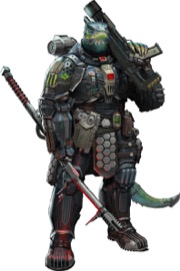 Meet the Iconics: Obozaya
Obozaya was born on Vesk Prime, the planetary capital of the Veskarium, to a family of low-level military bureaucrats. Distinguishing herself with her determination and ferocity on the sports field and in the dueling ring—if not in her academic studies—Obozaya quickly established herself as a top-notch military cadet, enlisting as soon as her basic studies were complete.
More Paizo Blog
.
---
Tags: Iconics Meet the Iconics Obozaya Remko Troost Soldiers Starfinder
---