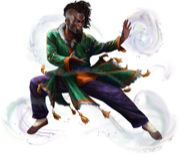 Occult Adventures Class Preview: The Kineticist
The kineticist is the odd girl out in Occult Adventures. All the other occult classes are spontaneous spellcasters, but the kineticist isn't a spellcaster. Instead the power of the elements surges through her, and she controls the fundamental building blocks of reality in her own way, using her own body as a conduit to unleash and shape raw bursts of power and to assist her in every aspect of her adventuring career. The kineticist class lets you play characters with strong elemental themes, just like those from all sorts of books, TV shows, movies, and other popular media. She can infuse both form (to change the shape and the delivery mechanism for her blasts) and substance (to add extra effects to her blast), making her blasts an extremely versatile weapon indeed in the hands of an experienced kineticist. The kineticist needs the Constitution to withstand those energies and the Dexterity to shape them, which also makes her an oddity among all the classes in the way she operates. She can use her powers at a baseline all day long, but she can also overclock them, pulling in more energy than her body can normally withstand to gain impressive short-term benefits and the lasting advantages of extra elemental energy coursing through her, but at a great cost to her durability.
More Paizo Blog
.
---
Tags: Kineticists Pathfinder Roleplaying Game Suzanne Helmigh
---

Meet the Iconics: Yoon
Today, as part of our ongoing Meet the Iconics series, we introduce the next of the six new iconic characters featured in Pathfinder Roleplaying Game: Occult Adventures. This week we meet Yoon, the iconic kineticist!
More Paizo Blog
.
---
Tags: Iconics Kineticists Meet the Iconics Pathfinder Roleplaying Game Wayne Reynolds Yoon
---