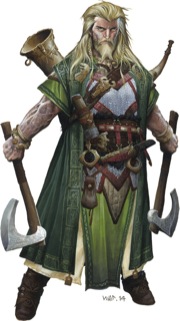 Meet the Iconics: Hakon
Past the Ironbound Archipelago, across the Steaming Sea, lies the Broken Bay, haven of scoundrels, raiders, cutthroats, and killers in the bloodiest viking traditions of the Lands of the Linnorm Kings. As a youth, Hakon waited impatiently to come of age and join the seasonal southern raids of his countrymen, eagerly absorbing the tales of distant lands they brought back with the plunder. The proud raiders boasted of desperate battles at sea, of ceaseless storms and sea monsters and foreign towns cloaked in sheets of cascading flames. Hakon committed these stories to memory, adding his own embellishments to create an oral history for his people—vowing to one day make a place for himself within it.
More Paizo Blog
.
---
Tags: Iconics Meet the Iconics Pathfinder Roleplaying Game Skald Wayne Reynolds
---
Advanced Class Guide Preview: Skald
The savage warrior whose warcries and fury inspire his allies to great deeds. The respected keeper of epics and histories of a bloody and glorious past. Even before the Advanced Class Guide, the skald lurked in our collective fantasies, though he often manifested in different ways. A multiclass character here, an archetype there. But there was never really a dedicated class that captured the fury and power of the skald, until now. The skald was an easy fit for Golarion. I mean, we have the Ulfen, whose very language is called Skald, and there's plenty of other cultures where it's easy to see these fearsome and mighty battle leaders replacing the more refined and classical bard of the Lem variety.
More Paizo Blog
.
---
Tags: Pathfinder Roleplaying Game Ramon Puasa Jr Skald
---