Before we get rolling into the main subject of this week's blog, we'd like to give a big thanks to everyone who came to PaizoCon—especially everyone who participated in Pathfinder Society Organized Play (understandably, we're a bit biased). We got lots of really positive and helpful feedback following the test run of Legacy of the Stonelords, one of the upcoming Specials set to run at Gen Con Indy 2014. There were also two lottery events called "Out of Retirement," in which Mark Moreland and John Compton revisited two of Season 0's retired scenarios, redid the stat blocks (and redeveloped a few other features), and ran them for credit for excited players. Rumor has it that Mark's Blood at Dralkard Manor claimed a few lives, whereas John's Hands of the Muted God proved less deadly but equally fun. You won't hear us promising to un-retire these for the public just yet, but the positive response we got this makes it likely we'll do something similar for the next PaizoCon. Thanks again!
A month ago, we briefly discussed the impact of faction PCs' decisions in the campaign and how these decisions have shaped the direction that these factions are going. The following week on the Know Direction podcast, John Compton expanded on what this evolution might entail for many factions: name changes, shifting goals, and even changes in leadership. Recently, we revealed the changes coming up for Andoran and Cheliax, and Osirion and Taldor.
As advertised over a year ago, the so-called nation-based factions have spent the past season (or longer for some like the Cheliax faction) distancing themselves from their parent countries to embrace less territorial and more broadly philosophical endeavors. When the Pathfinder Society Organized Play leaders began discussing how factions would change, we looked at the reporting numbers contributed by players worldwide and carefully considered how the faction might change to reflect this information while still appealing to a large percentage of its members. For example, members of the Silver Crusade faction tend to be good guys, so changing that faction to be neutrally aligned would discourage a lot of players.
Today's factions both love their money, though in the past they've pursued this goal in slightly different ways. Be warned that there are some light spoilers from Season 5 scenarios referenced below.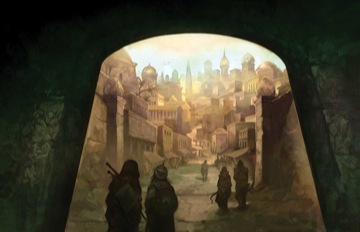 Illustration by Jon Hodgson
Sczarni: Use Pathfinder Missions as a Front for Personal Gain
Guaril Karela's takeover of the Sczarni families seemed nothing short of flawless, and within a year, he controlled most of the Sczarni operations in Varisia. In doing so, he and his agents had stepped on quite a few toes, earning them the enmity of the "survivors." For the past year these survivors have orchestrated Guaril's downfall—preferably executed with a sharp knife in a dark alley. Fortunately for Guaril, he had also worked his way into the Pathfinder Society's good graces and established himself as an indispensible spymaster, and the Society devoted some of its resources to keeping the canny Varisian out his enemies' sights.
Guaril is tired of lying low, and now that his agents have tracked down and dispatched a few of the rogue Sczarnis' ringleaders, he is ready to deliver the killing blow and be rid of this threat forever. Of course, his enemies won't go down without a fight, so Sczarni faction PCs should expect a deadly showdown. Should Guaril die, his nascent empire could crumble without his threats and arm-twisting to keep things together. Even if he should live, he has demonstrated weakness in the eyes of several key supporters, and it may prove too much for the faction to recover.
Qadira: Dominance Through Trade
Aaqir al'Hakam stepped up to guide the Qadira faction after its then leader Pasha Mualia al'Jakri disappeared under violently ominous circumstances, and for several years he has extended the faction's influence and commercial interests in distant ports. Of all of the faction leaders we've discussed thus far, al'Hakam has perhaps the least antagonistic relationship with his home country. It's not that his superiors have betrayed, disowned, or disappointed him. Rather, he has found that some of the more promising opportunities are available only to those without a national affiliation.
Two years ago, the Qadira faction undertook an ambitious project to claim markets in Varisia and establish trade relations with Janderhoff. Although agents succeeded in some regards, a wide variety of factors—including the existence of other aggressively mercantile operations like those maintained by some of the Sczarni—stymied their progress. It also seemed that the local people perceived the ambitious, foreign merchants as invaders rather than as well-intentioned entrepreneurs. After months of hard work, Aaqir al'Hakam redirected his resources elsewhere, admitting that the circumstances were not yet right for his organization to supply Varisian demands.
During the Year of the Demon, Qadira faction agents have developed trade contacts far and wide in the Inner Sea region, building upon their past successes in the years before. Markets in the Five Kings Mountains, Druma, Rahadoum, Kaer Maga, Taldor, and Andoran have all shown an interest in the faction's services, and their cooperation has only improved the more that al'Hakam portrays his operation as an independent outfit and less as a state-sanctioned business. The significance of this is not lost on the faction leader, and he has quietly laid the groundwork for a new business with the blessing and support of his late mentor, the trade princess Zarmina Bahjari.
Qadira is now aware of Aaqir al'Hakam's plans, and for the most part the satrapy has accepted his new strategy with grace—even though he is severing some of his ties to the nation. Most trade princes operate independently, yet their successes nonetheless fill Qadira's coffers by encouraging more trade to gravitate to Kelish ports; al'Hakam's venture is similar in many ways but on a larger scale, and the ruling elite believe it is a better investment to formally accept the faction's transformation, make the most of past accomplishments, and enjoy the fruits of having the faction leader as an ally rather than as a proxy.
What's more, it allows the one-time Qadira faction to merge with like-minded operations that might otherwise balk at heavy-handed Kelish affiliation. As you may have guessed by now, two of the factions are merging into one.
The Exchange: There are Two Sides to Every Coin
In many ways the new faction is going about business as usual, though it no longer operates as an extension of the Qadiran state. PCs from Qadira (including those interested in forwarding national interests) will still find the faction an attractive choice, but by stepping away from its parent country, the faction also broadens its scope and the types of stories we can tell. Flavor-wise, faction PCs will be more like business partners and less like agents, and we anticipate missions, boons, vanities, and faction traits will reflect this.
As for the Sczarni faction, Aaqir al'Hakam has an eye for talent and believes the Sczarni network is too valuable to dissolve as a result of Guaril Karela's recent troubles. Instead, the Sczarni would benefit from being a part of al'Hakam's new endeavor, and in doing so his business would expand beyond the mundane delivery of goods and into the realm of more…"challenging" commodities. When the time is right, the trade prince trusts Guaril will approve the merger.
And just in case your character is an upstanding merchant that would frown upon the underhanded tactics used by the Sczarni, we have some exciting ideas as to how to keep this combined "money" faction appealing to both you and the less virtuous entrepreneur.
Happy gaming,
John Compton and Mike Brock
Developer and Pathfinder Society Campaign Coordinator