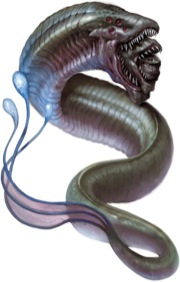 Mind Beasts Hunger for Your Dreams!
Gather close to learn a harrowing secret of the hidden world of Pathfinder Roleplaying Game development! One plan was to include occult monsters—psychic vampires, duergar, and advanced aboleths, among others—in the Pathfinder RPG Occult Adventures hardcover. During that book's development, however, we discovered that we wanted to explore more occult themes than would fit in a single book, and thus Pathfinder Campaign Setting: Occult Bestiary was born. Containing all the creatures originally intended for the pages of Occult Adventures as well as dozens more, Occult Bestiary provides GMs with nearly 50 new monsters with which to populate any occult-themed campaign, many of which use the new rules presented in Occult Adventures.
More Paizo Blog
.
---
Tags: Audrey Hotte Ben Wootten Jason Juta Kim Sokol Maichol Quinto Pathfinder Campaign Setting Yigit Koroglu
---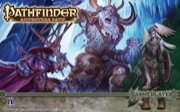 I Smell the Blood of a Player Character
The first three volumes of the Giantslayer Adventure Path are out in the wild, and in a short time the fourth volume, Pathfinder Adventure Path #94: Ice Tomb of the Giant Queen will be hitting stores and subscribers' doorsteps (and downloads). Hopefully, if you're not playing though this campaign, some of you have been living vicariously through the Order of the Amber Die by reading along and looking at all the amazing pictures they have been sharing with us all from their marathon sessions. (If not, go check it out now: Giantslayer Marathon: Part 1, Part 2, and Part 3.)
More Paizo Blog
.
---
Tags: Aleksey Bayura Ekaterina Maximovich Eric Belisle Giantslayer Johan Grenier Pathfinder Adventure Path Roberto Pitturru Wallpapers Yigit Koroglu
---