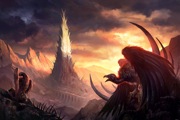 Journey into the Meraz
The sands of the Meraz Desert hide a long and storied history, one beset by ancient evils and warring factions. In Feast of Dust, the PCs start off in the trade town of Dimayen as it is plagued with an ancient curse. Citizens find themselves ravenously hungry, but can't seem to keep any food down and eventually starve or wander out into the desert. As the PCs get involved, they work with factions in the town, before setting out into the remote Meraz to track down the source of the town's problems—a cult of Trelmarixian inhabiting the Sunbleached Tower!
More Paizo Blog
.
---
Tags: Ertaç Altınöz Firat Solhan Pathfinder Modules Rogier van de Beek Tomasz Chistowski
---

It's a Fight to the Finish!
Bestiary 5 is creeping, crawling, slithering, and sneaking its way to you soon—it's time for some previews! But we're gonna shake things up a bit, and give you the opportunity to choose what you want to see, not to mention a chance to win a signed copy of Bestiary 5 when it releases!
More Paizo Blog
.
---
Tags: Alexandru Sabo Bestiary 5 Community Contests Daniel Lopez Pathfinder Roleplaying Game Rogier van de Beek
---