Red Mantis Assassin mini
... Red Mantis Assassin mini Fri, Aug 6, 2010 at 03:26 PM PacificLisa Stevens ... CEO
More Paizo Blog
.
---
Tags: Gen Con Prestige Classes Red Mantis Rogues
---

He Who Walks In Blood
He Who Walks In Blood Monday, April 28, 2008In Golarion, the gods are immortal. They can die, but the methods of their deaths must be divine as well. A mortal cannot kill a god. However—the same cannot be said of demigods! None of the core 20 deities of Golarion are demigods, but we've introduced several along the way who could be called such. A demigod can be killed by mortals—they possess stat blocks, in other words. ... Last Monday, I introduced you to one of Golarion's most...
More Paizo Blog
.
---
Tags: Gods and Magic Red Mantis
Sign in to start a discussion.
---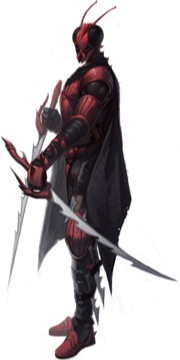 The Red Mantis
... The Red Mantis Monday, April 21, 2008In Pathfinder #9, we officially introduce one of Golarion's most sinister villains—the order of assassins known as the Red Mantis. Clad in signature red and black armor, wielding serrated blades, and wearing magical mantis masks to enhance their sight and to strike fear into the hearts of their victims, the Red Mantis have long stalked the nights and nightmares of their prey. Dutiful and discreet, professional and deadly effective, these killers'...
More Paizo Blog
.
---
Tags: Portraits Red Mantis
---