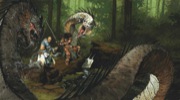 In with the New
... Illustraction by Vincent Dutrait ... In with the New Wednesday, January 6, 2010Pretty much the last thing we did in 2009—before we ran screaming from the office, that is—was to pack Pathfinder Adventure Path #31: Stolen Land, the first volume of the Kingmaker Adventure Path, off to the printer. So, to refresh your desktop for the new year, check out its incredible cover scene from artist Vincent Dutrait. Enjoy! ... Wes Schneider ... Managing Editor ...
More Paizo Blog
.
---
Tags: Amiri Barbarians Iconics Kingmaker Monks Monsters Pathfinder Adventure Path Sajan Tatzlwyrms Vincent Dutrait Wallpapers
---

Long Live the King!
... Long Live the King! Monday, December 7, 2009So we're putting the final touches on the last volume of Council of Thieves as I write this post. Which also means that I'm finally starting to work on the next Adventure Path, Kingmaker. The authors have, of course, already been hard at work and we've already got four of the adventures in house in one shape or another—but the grisly process of development and editing can now start in earnest. ... And so I thought I'd show off some art...
More Paizo Blog
.
---
Tags: Animals Kingmaker Monsters Pathfinder Adventure Path Peter Lazarski Portraits Tatzlwyrms
Sign in to start a discussion.
---