Digital Content Enters a New Era!
Running Pathfinder games is about to get a lot easier, as Pathfinder content goes digital in a way never seen before. Lone Wolf Development and Paizo have teamed up to establish a new digital standard by delivering Pathfinder content through Realm Works, the ENnie award-winning campaign suite.
More Paizo Blog
.
---
Tags: Licensed Products Lone Wolf Development Realm Works
---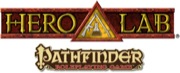 Introducing Pathfinder Class Packs for Hero Lab
Getting started with Hero Lab just got less expensive for players, making it easy to discover for yourself why Hero Lab is Paizo's official, in-house standard for character creation. You can now unlock your favorite classes in Hero Lab with new "Class Packs"—everything from seven essential rulebooks, all for only $29.99!
More Paizo Blog
.
---
Tags: Hero Lab Licensed Products Lone Wolf Development
---