And a Joyous Crystalhue to All!
On the shortest day of the year in Golarion, goodly folk celebrate Crystalhue with small gifts and rainbow imagery in honor of Shelyn. So to celebrate not only Crystalhue but also wrapping up work on Pathfinder Campaign Setting: Inner Sea Gods, I've made a small present for you all—Shelyn's symbol charted up for needlepoint and also as a mittens pattern! Enjoy, and please share images if you try it out!
More Paizo Blog
.
---
Tags: Crafts Golarion Holidays
---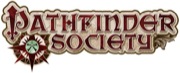 Ascendance Day
Ascendance Day Monday, October 7, 2013 ... Illustration by Fabio GorlaHere at Paizo, the end of convention season can seem like a holiday, enough so that it calls for a new holiday blog. The anniversary of Iomedae's successful venture into the Starstone Cathedral was only yesterday, and given the goddess's key role in the Mendevian Crusade that is so central both to Pathfinder Society Organized Play's Year of the Demon and the Wrath of the Righteous Adventure Path, it seems particularly...
More Paizo Blog
.
---
Tags: Fabio Gorla Golarion Holidays Pathfinder Society
---