Additional Resources and Signal of Screams
This year's been a busy one, particularly with all of the work that's gone into creating Pathfinder Playtest scenarios, reviewing feedback, discussing the Second Edition organized play program's structure, and conveying that in a bunch of really big blogs. While that's been really productive from a looking-to-the-future perspective, it's been less fulfilling in the present because we had fallen way behind in our Additional Resources and Campaign Clarifications process. Over the past 8 weeks, the developers have revisited how we approach these books, devised better ways to streamline the whole process, and pushed through numerous months' content.

Rule of Threes
The initial volume of the Against the Aeon Throne Adventure Path releases this month, marking several changes to the Starfinder Adventure Path format, some permanent, some more experimental. Firstly, as many of you know by now, Starfinder Adventure Path is becoming a monthly product! We'll be delivering new adventures, new articles, and new creatures to you every 30 days or so until someone makes us stop. Heck, it's worked pretty well for Pathfinder all these years, so I think we'll probably be fine. We have a lot of exciting campaigns and stories that we want to share with you, so we hope you'll join us for this journey among the stars.
More Paizo Blog
.
---
Tags: Against the Aeon Throne David Melvin Mark Molnar Starfinder Starfinder Adventure Path
---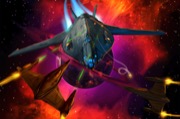 Starship Combat—I Am a Leaf on the Wind
From androids manipulating reality with technomagic to goblins in spacesuits wielding barely functioning laser pistols, the Starfinder RPG covers the majority of weird and exciting science-fantasy tropes. But it would be a poor game that takes place among the stars if it didn't have starships! Luckily, Starfinder gives you all you need to play the crew of an intrepid vessel exploring the galaxy—and getting into trouble along the way.
More Paizo Blog
.
---
Tags: Ben Wootten David Melvin Starfinder
---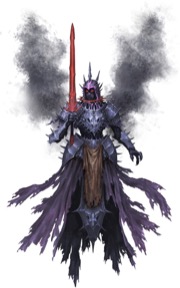 Demigods of Bestiary 6
Demigods of Bestiary 6 Thursday, March 23, 2017 With the reveal of Pathfinder RPG: Bestiary 6's fiendishly ferocious cover last week, the time is finally right to start looking INSIDE of this book... or should I say the STARS are right? Because yes indeed we've got three more of Lovecraft's Great Old Ones appearing in this book. In fact, one of the recurring themes you'll notice right away (it's right there on the cover) is that we're including more statistics for demigods in Bestiary 6...
More Paizo Blog
.
---
Tags: Bestiary 6 David Melvin Pathfinder Roleplaying Game Will O'Brien William Liu
---

That Notorious Haunter of the Holidays
Krampus has nabbed the Publisher Preview! Stay tuned for updates on miniatures and more after the holidays!
More Paizo Blog
.
---
Tags: Bestiary 6 David Melvin Pathfinder Roleplaying Game
---
Halloween Monster Movie Playlist
For those of you that are big fans of monsters like me, paging through a bestiary is always a delight. While we pull many of our devious and dangerous creatures from folklore, we also draw from pop culture from time to time. Many of us here are fond of horror movies (and monster movies), and it's no small surprise that a number of our monsters are inspired by the movies we so love.
More Paizo Blog
.
---
Tags: David Melvin Eric Belisle Halloween Joshua Meehan Monsters Pathfinder Roleplaying Game Ryan Portillo
---