Well, we've previously looked at the art and the deities featured in Pathfinder Campaign Setting: Inner Sea Gods, and now it's time to look at some of the new character options presented in the book.
This book features three all-new prestige classes, each offering different abilities depending on which of the 20 core deities the character worships. That's 60 different iterations of the prestige classes! The classes are the evangelist (a jack-of-all trades that serves as a divine-themed version of the character's other class[es]), exalted (a deity-specific prestige class for divine spellcasters), and sentinel (a full-BAB prestige class for holy warriors).
Illustration by Ivan Dixon
There's more to Inner Sea Combat than just prestige classes, however! In fact, there's something here for followers of dozens of religions who want to stick with a single class their whole career. We've got new feats, religion traits, subdomains, and spells, including spawn calling, which allows the caster to summon one of Rovagug's mighty spawn, and comes with a mythic upgrade to bring about even more destruction.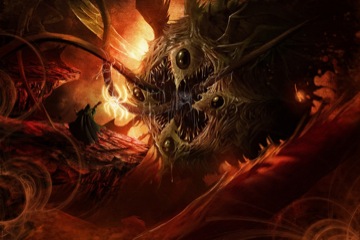 Illustration by Alejandro Rojas
In addition to scores of new faith-themed magic items, Inner Sea Gods also presents a new type of magic item—altars. These stationary places of worship grant bonuses to those characters who pray at them each day.
Illustration by Diana Martinez
That's all for today, but check back soon for one more look inside Inner Sea Gods, when we'll examine a few of the creatures that make up the book's sizable bestiary. Inner Sea Gods is already on its way to distributors, and will be available in retail stores and to subscribers in the near future. You can preorder the book here.
Mark Moreland
Developer