Love PDF Style!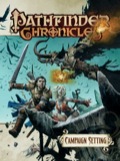 Check out Paizo's Pathfinder PDFs at 35% off until the end of April!
Grognard that I can be, I was a little slow in coming to the PDF table. I like the feel of a good book; I love flipping through the pages. Over the last several years, though, I have come to really appreciate the compactness and searchability of PDFs. Now my hard drive is loaded with them and my laptop has become as important as my GM screen.
At paizo.com, most of the roleplaying books we publish are available in both print and PDF editions. We take pride in the high quality of our PDFs and think that they are some of the best in the industry. And we would love to show you how cool they are by allowing you to buy our Pathfinder PDFs for 35% off the regular retail price through the end of April. This offer includes Pathfinder Adventure Path PDFs, Pathfinder Modules PDFs, Pathfinder Chronicles PDFs, Pathfinder Companion PDFs, and Pathfinder Society Scenario PDFs.
Just add the Pathfinder PDFs you would like to buy into your cart, and when you are checking out, type the promotional code PDFLove in the appropriate box. The 35% discount will be applied to your Pathfinder PDFs at that point. You can use this code as many times as you like until the end of April—and feel free to share this code with your friends!
Update! Sean K Reynolds has added PDFs from Sean K Reynolds Games to the PDFLove promotion! Get 'em while they're cheap!
Another Update! The new Pathfinder Paper Minis have been introduced as part of the promotion as well!
More Blog
.
---
Link
.
Sign in to start a discussion.