Pathfinder Adventure: The Fall of Plaguestone
Paizo Inc.

(based on

18

ratings)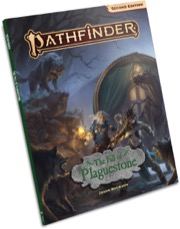 Show Description For:
Non-Mint
Add Print Edition $22.99
Add PDF $15.99
Add Non-Mint $22.99 $17.24
A Troubled Town
A group of new adventurers traveling through the village of Etran's Folly—also known as Plaguestone—must come together to solve the murder of a friend. What starts as a simple investigation quickly turns sinister with the discovery of forbidden alchemy, mutant animals, and a nearby forest rotting away due to a mysterious blight. It becomes clear that if these heroes don't intervene to stop whatever evil is brewing, the fall of Plaguestone is all but certain!
The Fall of Plaguestone is the first standalone adventure for Pathfinder Second Edition, designed for 1st-level characters. It tells the story of how a group of strangers band together to form a group of adventurers while saving the town of Etran's Folly from a terrifying fate, serving as a perfect introduction to a new Pathfinder campaign!
This adventure can be used with the Pathfinder Flip-Mat: The Fall of Plaguestone.
ISBN: 978-1-64078-174-0
Other Resources: This product is also available on the following platforms:
Hero Lab Online
Fantasy Grounds Virtual Tabletop
Pathfinder Nexus on Demiplane
Roll20 Virtual Tabletop
SoundSet on Syrinscape
Archives of Nethys
Product Availability

---
Print Edition:
Available now
Ships from our warehouse in 11 to 20 business days.
PDF:
Fulfilled immediately.
Non-Mint:
Available now
Ships from our warehouse in 11 to 20 business days.
This product is
non-mint
. Refunds are not available for non-mint products. The standard version of this product can be found
here
.
Are there errors or omissions in this product information? Got corrections? Let us know at store@paizo.com.
PZO9555
---
See Also:
Recent threads in Product Discussion