Pathfinder Flip-Mat Classics: Hill Country
Paizo Inc.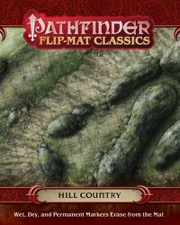 Show Description For:
Non-Mint
Add Print Edition $13.99
Add PDF $9.99
Non-Mint Unavailable
Head to the Hills!
Whether your party is tracking monsters through the misty highlands or fighting a guerrilla campaign against an invading army, no Game Master wants to spend time drawing every fold and bluff that the party might hide behind. Fortunately, with Pathfinder Flip-Mat Classics: Hill Country, you don't have to!
The most-popular Pathfinder Flip-Mats in history return! These fan-favorite maps feature versatile adventure settings—city streets, forests, ships, taverns, and more—and now they're back for a repeat performance. Durable and lavishly detailed, these essential adventure set pieces are sure to bring excitement to your game table for years to come!
A special coating on each Flip-Mat allows you to use wet erase, dry erase, AND permanent markers with ease! Removing permanent ink is easy—simply trace over any permanent mark with a dry erase marker, wait 10 seconds, then wipe off both marks with a dry cloth or paper towel. Each Flip-Mat measures 24" x 30" unfolded, and 8" x 10" folded.
ISBN-13: 978-1-64078-113-9
Note: Flip-Mat Classics are not included in the Pathfinder Maps Subscription. Pathfinder Maps Subscribers who preorder Flip-Mat Classics: Hill Country will receive a free PDF when their physical copy ships.
Additional Product Images
---
(click to enlarge)
Product Availability

---
Print Edition:
Available now
Ships from our warehouse in 11 to 20 business days.
PDF:
Fulfilled immediately.
Non-Mint:
Unavailable
This product is
non-mint
. Refunds are not available for non-mint products. The standard version of this product can be found
here
.
Are there errors or omissions in this product information? Got corrections? Let us know at store@paizo.com.
PZO31023
---
See Also:
Recent threads in Product Discussion