Pathfinder Roleplaying Game: Merisiel, Iconic Rogue T-Shirt
Offworld Designs
(based on

2

ratings)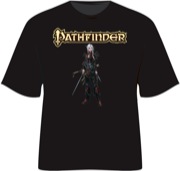 Add Small $20.00 $10.00
Add Medium $20.00 $10.00
Add Large $20.00 $10.00
Add XL $20.00 $10.00
Add 2XL $23.00 $11.50
Add 3XL $23.00 $11.50
Add 4XL $26.00 $13.00
5XL Unavailable
Stab all the things, then stab them some more with the Pathfinder Roleplaying Game iconic rogue, Merisiel! Black 100% cotton t-shirt.
Product Availability

---
Small, Medium, Large, XL, 2XL, 3XL, 4XL:
Available now
Ships from our warehouse in 1 to 5 business days.
5XL:
Unavailable
Are there errors or omissions in this product information? Got corrections? Let us know at store@paizo.com.
OWD-PZO9003
---
See Also: