Star Wars LCG—Hoth Cycle #3: A Dark Time Force Pack
Fantasy Flight Games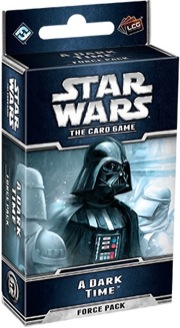 Show Description For:
Non-Mint
Add Pack $14.95 $9.95
Non-Mint Unavailable
The Battle of Hoth heats up in A Dark Time! Rebel forces prepare for evacuation as Imperial walkers advance and open heavy fire. The sixty cards in A Dark Time reinforce the Hoth trait even as light and dark side forces prepare to clash for control of the desolate ice planet. New Characters, Fighters, and Locations populate the battlefield and encourage strategies built around assaulting damaged objectives and winning the Force struggle.
A Dark Time draws inspiration from the early scenes of The Empire Strikes Back while relating the ongoing tale of the light side's desperate stand on Hoth, but its cards also do more. They simultaneously expand the game's exploration of Hoth and of the Star Wars universe beyond the characters, vehicles, and events captured in the classic films.
Star Wars: The Card Game allows you to recreate you favorite moments from the movies. It also invites you to invent new stories in the Star Wars universe, and the cards from A Dark Time suggest new scenes. It hints at hidden Sith schemes and traces the efforts made to ready the Cloud City carbonite chamber for activation. It draws attention to the black ops work of the Renegade Squadron and to the Gotal survivors of the Clone Wars who hid from Imperial detection amid the wilds of the Outer Rim. A Dark Time presents the challenges facing those besieged Rebels fighting on Hoth, but it also paints a larger picture of galactic conflict between the light and dark sides of the Force throughout multiple star systems.
Product Availability

---
Pack:
Available now
Ships from our warehouse in 1 to 5 business days.
Non-Mint:
Unavailable
This product is
non-mint
. Refunds are not available for non-mint products.
Are there errors or omissions in this product information? Got corrections? Let us know at store@paizo.com.
SWC04
---
See Also: