Cookie Fu: Battle Royale
Blue Kabuto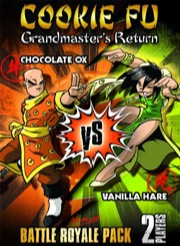 Show Description For:
Non-Mint
Add Royale $24.99 $22.49
Non-Mint Unavailable
After many long years, the Grandmaster returns at last to instruct a new batch of students in the Way of the Cookie. Rival clans must unite as even now forces of the Dark Cookie assemble on the fringes of the mythical land of Fu. Only the best and bravest warriors can earn the title of "Fu Fighter" in hopes to defeat Bok Choy's army of faceless mooks, demons, and ghosts. The Chocolate Ox, Vanilla Hare, and Coconut Monkey are the first three who step forward to battle this menace that threatens the land.
Cookie fu is a game about two things Americans really love: Chinese Take-out and bad Kung Fu movies. The game comes packed in a mini take out pail and features 5 custom dice, rules menu, and a real fortune cookie. The game rules replicate a Chinese Take-out menu (soy sauce stains not included) and the fortune cookie contains a special "Cookie Fu" move that players can use in the game against their opponents! The base set 55 dice and features 3 clans: Chocolate Ox, Vanilla Hare, and Coconut Monkey—each with corresponding flavored fortune cookies.
Each Cookie Fu Battle Royale Pack contains:
1 Chocolate Ox Clan Pack
1 Vanilla Hare Clan Pack
2 Booster Packs
That's a total of 18 dice, 4 cookies, and 2 rule menus all for a very tasty price!
Product Availability

---
Royale:
Available now
Ships from our warehouse in 1 to 5 business days.
This product has been discontinued by the manufacturer or is no longer being carried by our distributor.
Non-Mint:
Unavailable
This product is
non-mint
. Refunds are not available for non-mint products. The standard version of this product can be found
here
.
Are there errors or omissions in this product information? Got corrections? Let us know at store@paizo.com.
IMPBKA2010
---
See Also: