Paint Your Face with Runes Coloring Book
Stan!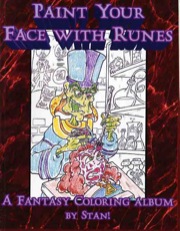 Show Description For:
Non-Mint
Add Book $8.35 $7.50
Non-Mint Unavailable
Paint Your Face with Runes is a collection of Stan!'s past coloring pages mixed with a smattering of new "sneak peeks" of art from a work in progress. If you have kids, or just like being a kid yourself, this coloring book will have you smiling.
This coloring book was printed in a limited edition of 200 copies.
Stan!'s art credits include Polyhedron magazine's Bolt and Quiver comic strip and Dungeons & Dragons coloring books for the Wizards of the Coast website.
This item is available exclusively on paizo.com!
Product Availability

---
Book:
Available now
Ships from our warehouse in 11 to 20 business days.
Non-Mint:
Unavailable
This product is
non-mint
. Refunds are not available for non-mint products. The standard version of this product can be found
here
.
Are there errors or omissions in this product information? Got corrections? Let us know at store@paizo.com.
STX
---
See Also: