Pathfinder Tales: Liar's Blade
Paizo Inc.
(based on

20

ratings)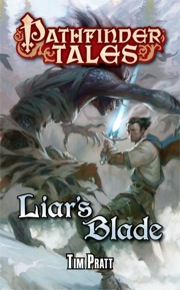 Show Description For:
Non-Mint
Add Print Edition $9.99 $5.00
Add PDF/ePub $6.99
Add Non-Mint $9.99 $7.49
Bastard and Sword
With strength, wit, rakish charm, and a talking sword named Hrym, Rodrick has all the makings of a classic hero—except for the conscience. Instead, he and Hrym live a high life as scoundrels, pulling cons and parting the weak from their gold. When a mysterious woman invites them along on a quest into the frozen north in pursuit of a legendary artifact, it seems like a prime opportunity to make some easy coin—especially if there's a chance for a double-cross. Along with a hooded priest and a half-elven tracker, the team sets forth into a land of monsters, bandits, and ancient magic. As the miles wear on, however, Rodrick's companions begin acting steadily stranger, leading both man and sword to wonder what exactly they've gotten themselves into...
From Hugo Award-winner Tim Pratt, author of City of the Fallen Sky, comes a bold new tale of ice, magic, and questionable morality set in the award-winning world of the Pathfinder Roleplaying Game.
400-page mass market paperback
ISBN–13: 978-1-60125-515-0
ePub ISBN-13: 978-1-60125-516-7
Liar's Blade is also available as a digital edition on the following sites:
Product Availability

---
Print Edition:
Available now
Ships from our warehouse in 11 to 20 business days.
PDF/ePub:
Fulfilled immediately.
Non-Mint:
Available now
Ships from our warehouse in 11 to 20 business days.
This product is
non-mint
. Refunds are not available for non-mint products. The standard version of this product can be found
here
.
Are there errors or omissions in this product information? Got corrections? Let us know at store@paizo.com.
PZO8513
---
See Also:
Recent threads in Product Discussion