Pathfinder Roleplaying Game: Beginner Box (OGL)
Paizo Inc.
(based on

39

ratings)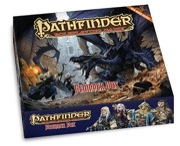 Show Description For:
Non-Mint
Print Edition Unavailable
Add PDF $9.99
Non-Mint Unavailable
Adventure Awaits!
Take your first step into an exciting world of fantasy adventure with the Pathfinder Roleplaying Game Beginner Box! Within you'll find simple rules for creating and customizing your own hero, as well as a robust system for running your character through challenging adventures and deadly battles against villainous monsters like goblins and dragons! Will you master weapons and magic to become a courageous fighter, a wise cleric, a witty rogue, or a brilliant wizard? All the details of your character are yours to control. The only limit it your imagination!
The Pathfinder Roleplaying Game Beginner Box is packed with everything you need to get started with the Pathfinder Roleplaying Game, an imaginative tabletop fantasy adventure game for 2-5 players. Tons of monsters, challenges, and advice give gamers the tools to create their own worlds and adventures, providing countless hours of gaming excitement. With streamlined rules and a focus on action-packed heroic adventure, this deluxe boxed set is the ideal introduction to the world of the Pathfinder Roleplaying Game, and the best starting point for a lifetime of pulse-pounding adventure!
The Pathfinder Roleplaying Game Beginner Box includes:
A 64-page Hero's Handbook, detailing character creation, spells, equipment, and general rules for playing the game
A 96-page Game Master's Guide packed with adventure, monsters, magic treasures, and advice on how to create and narrate tales all your own
A 16-page Transition Guide to bring your hero to the full Pathfinder Roleplaying Game!
A complete set of 7 polyhedral dice
More than 80 full-color pawns depicting diverse heroes and monsters
Four pregenerated character sheets to throw you right into the action
Four blank character sheets to record the abilities of your custom-made hero
A durable, resuable, double-sided Flip-Mat play surface that works with any kind of marker
And don't forget to check out the prepainted Pathfinder Beginner Box Heroes Miniatures Set from WizKids, featuring the pregenerated heroes included in the Beginner Box!
Pawns Included in the Beginner Box
Air Elemental
Animated Statue (2)
Barghest
Black Dragon
Boar
Boggard
Dire Rat (3)
Doppelganger
Dwarf Cleric (Female)
Dwarf Cleric (Male)
Dwarf Fighter (Female)
Dwarf Fighter (Male)
Dwarf Rogue (Female)
Dwarf Rogue (Male)
Dwarf Wizard (Female)
Dwarf Wizard (Male)
Earth Elemental
Elf Cleric (Female)
Elf Cleric (Male)
Elf Fighter (Female)
Elf Fighter (Male)
Elf Rogue (Female)
Elf Rogue (Male)
Elf Wizard (Female)
Elf Wizard (Male)
Ezren (Iconic Wizard)
Fire Elemental
Gargoyle (2)
Ghost
Ghoul (2)
Giant Centipede
Giant Spider (2)
Goblin (4)
Goblin Boss
Goblin Dog
Gray Ooze
Green Hag
Hell Hound (2)
Human Cleric (Female)
Human Cleric (Male)
Human Fighter (Female)
Human Fighter (Male)
Human Rogue (Female)
Human Rogue (Male)
Human Wizard (Female)
Human Wizard (Male)
Kyra (Iconic Cleric)
Manticore
Medusa
Merisiel (Iconic Rogue)
Mimic
Mummy
Ogre
Orc (2)
Orc Boss
Reefclaw
Salamander
Serpentfolk
Skeletal Champion
Skeleton (4)
Troglodyte (2)
Valeros (Iconic Fighter)
Venomous Snake
Water Elemental
Werewolf (2)
Will-O'-Wisp
Wolf (2)
Zombie (2)
ISBN-13: 978-1-60125-630-0
Additional Product Images
---
(click to enlarge)
Product Availability

---
Print Edition:
Unavailable
PDF:
Fulfilled immediately.
Non-Mint:
Unavailable
This product is
non-mint
. Refunds are not available for non-mint products.
Are there errors or omissions in this product information? Got corrections? Let us know at store@paizo.com.
PZO1119E
---
See Also: