Pathfinder Module: Academy of Secrets (PFRPG)
Paizo Inc.

(based on

8

ratings)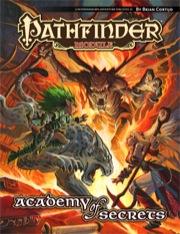 Show Description For:
Non-Mint
Add Print Edition $13.99 $5.00
Add PDF $9.99
Non-Mint Unavailable
A dungeon adventure for 13th-level characters
Every year the Acadamae—Korvosa's prestigious school of the arcane arts—opens its gates to the city to host the Breaching Festival, where the most skilled infiltrators are invited to enter the magically guarded Hall of Wards or die trying. Testing their luck against the university's strongest defenses, the competitors pull out all the stops as they vie for a chance at a fortune in gold and magical treasure. This year, the school's headmaster has invited the heroes to participate, against the contest's longstanding traditions. While the Breaching Festival has not seen a champion in over a century and a half, this year's festival promises to be the deadliest trial the school has ever known. Should the heroes reign victorious, the secrets they may uncover promise more than gold and glory—they may rock the very foundation of the Acadamae, and even the entire city!
Academy of Secrets is an adventure for 13th-level characters, written for the Pathfinder Roleplaying Game and compatible with the 3.5 edition of the world's oldest RPG. It features a massive magical university, compatible with GameMastery Map Pack: Magic Academy and teeming with sorcerous traps, weird puzzles, diabolical monsters, and countless students and professors trapped in a web of arcane deceit. Also within, you'll find a brand-new monster and details on one of Golarion's most famous schools of magic, as mentioned in Pathfinder Campaign Setting: Guide to Korvosa and the Curse of the Crimson Throne Adventure Path. While Academy of Secrets takes place in the metropolitan city of Korvosa, the magic academy within is suitable for use in any fantasy campaign setting.
Written by Brian Cortijo
Pathfinder Modules are 32-page, high-quality, full-color, adventures using the Open Game License to work with both the Pathfinder Roleplaying Game and the standard 3.5 fantasy RPG rules set. This Pathfinder Module includes new monsters, treasure, and a fully detailed bonus location that can be used as part of the adventure or in any other game!
ISBN-13: 978-1-60125-343-9
Academy of Secrets is sanctioned for use in Pathfinder Society Organized Play. Its Chronicle Sheet and additional rules for running this module are a free download (232 KB zip/PDF).
Product Availability

---
Print Edition:
Available now
Ships from our warehouse in 1 to 5 business days.
PDF:
Fulfilled immediately.
Non-Mint:
Unavailable
This product is
non-mint
. Refunds are not available for non-mint products. The standard version of this product can be found
here
.
Are there errors or omissions in this product information? Got corrections? Let us know at store@paizo.com.
PZO9531
---
See Also:
Recent threads in Product Discussion