Pathfinder Roleplaying Game: Ultimate Magic (OGL)
Paizo Inc.


(based on

48

ratings)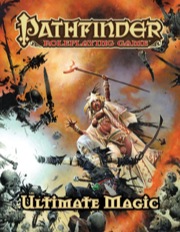 Show Description For:
Non-Mint
Add Hardcover $44.99
Add PDF $19.99
Non-Mint Unavailable
Raise your character to the pinnacle of magical might with Pathfinder Roleplaying Game Ultimate Magic! Within this book, secrets arcane and divine lie ready to burst into life at the hands of all the spellcasting classes in the Pathfinder Roleplaying Game. In addition to the brand-new magus class—a master of both arcane magic and martial prowess—you'll also find a whole new system for spellcasting, rules for spell duels and other magical specialities, and pages upon pages of new spells, feats, and more. Because when it comes to magic, why settle for less than absolute power?
Pathfinder Roleplaying Game Ultimate Magic is a must-have companion volume to the Pathfinder Roleplaying Game Core Rulebook. This imaginitive tabletop game builds on more than 10 years of system development and an Open Playtest featuring more than 50,000 gamers to create a cutting-edge RPG experience that brings the all-time best-selling set of fantasy rules into the new millennium.
Pathfinder Roleplaying Game Ultimate Magic includes:
The magus, a new base class combining deadly arcane magic with the skills and weapons of a trained warrior.
Words of power, an innovative and flexible new spellcasting system.
New options for dedicated casters, such as alchemist discoveries, alternative uses for channeled energy, druid companions, sorcerer bloodlines, eidolon abilities, witch hexes, and oracle mysteries.
Additional feats and magical abilities for martially oriented casters, including monk ki tricks, inquisitor archetypes, and ranger traps.
New magical conditions called spellblihgts, as well as systems for crafting constructs, binding outsiders, and spell-dueling.
More than 100 new spells, plus detailed guidelines for designing your own.
... and much, much more!
ISBN-13: 978-1-60125-299-9
Errata
Last Updated - 03/30/2012
Other Resources: This product is also available on the following platforms:
Hero Lab Online
Fantasy Grounds Virtual Tabletop
Archives of Nethys
Product Availability

---
Hardcover:
Available now
Ships from our warehouse in 11 to 20 business days.
PDF:
Fulfilled immediately.
Non-Mint:
Unavailable
This product is
non-mint
. Refunds are not available for non-mint products. The standard version of this product can be found
here
.
Are there errors or omissions in this product information? Got corrections? Let us know at store@paizo.com.
PZO1117
---
See Also:
Recent threads in Product Discussion