Greetings from Columbus, Ohio! This is a brief blog to let you know what the Pathfinder Adventure Card Game doings are at Origins Game Fair (in Columbus) and on Free RPG Day (at participating retailers worldwide) this weekend.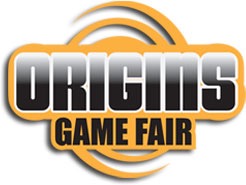 At Origins, there's PACG play in the Franklin Rooms pretty much all the time. If you're here and you haven't seen the new Pathfinder Adventure Card Game Core Set and Curse of the Crimson Throne Adventure Path, now's your chance to dive in. Plus, you'll be able to play all 4 scenarios of The Fangwood Thieves, the new Season of the Kobolds adventure for Pathfinder Adventure Card Society. (If you've never played PACS before, this is a great place to start!) It's a rollicking good time.
I'll be here throughout the weekend, mostly doing my annual nightly broadcast from the Big Bar on 2 with my co-hosts Paul Peterson and Gaby Weidling (remember them?). If you like lots of guests and assorted silliness, tune into the Lone Shark Games Twitch channel each night. Last night's broadcast should already be up!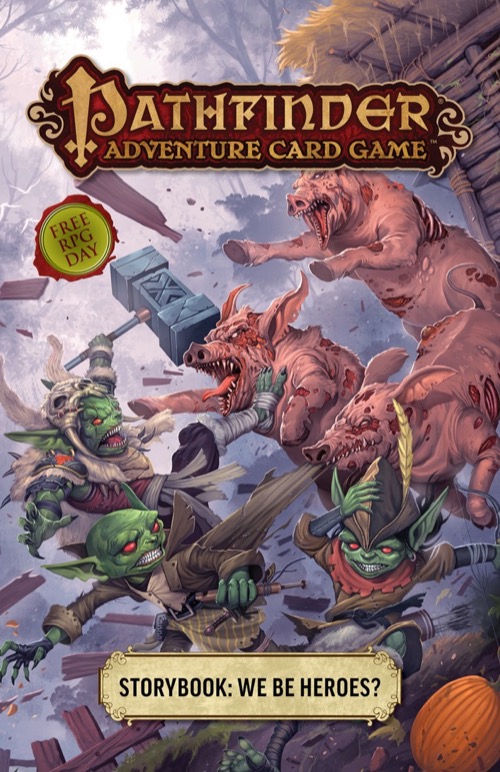 And then on Saturday, it's Free RPG Day! As I mentioned in a previous blog, we took this opportunity to write a whole new goblin adventure using the Core Set! We Be Heroes? is a weird, wild adventure of good-guy gobbos dealing with paladins, undead, and strange chickens. It includes 4 new goblin characters, though you can play it with any of the 159 (!) other PACG characters we've released over the years. You'll like it. Pick it up at any participating store or try it at Origins. If you can't get to one of those locations, though, don't worry—starting July 1, you'll be able to download the FREE PDF or buy a print copy from paizo.com.
We're also pleased to announce that We Be Heroes? is officially sanctioned for Pathfinder Adventure Card Society play. Just download this sanctioning document (218 KB zip/PDF), which describes the adjustments you need to make the adventure PACS-legal. (We will soon be issuing similar sanctioning documents for The Dragon's Demand and Curse of the Crimson Throne.)
Since We Be Heroes? is for starting characters, it didn't make sense to include roles for our new goblin heroes in that adventure. But we will be releasing them online so you can take them all the way through any Adventure Path—if you can keep them alive, that is. We're doing something very new for these: One of the two roles you can choose for each goblin uses a concept called goblin markers. Here's how they work: Each goblin picks a pattern of marker that's theirs. When various circumstances occur (such as Crimsi examining a barrier or Siathorn stealing an Animal ally from another character), they get to mark their character with one of their goblin markers. Feats allow them to count and spend the markers for all manner of craziness, such as the Kitbasher Crimsi letting a friend examine the top card of a few location decks then move to one of them. (Crimsi's friend will probably take only a small amount of damage in the process; I wouldn't worry about it too much if I were Crimsi.) There are only 7 of each marker in the box, so no goblin can have more than 7—unless you're playing Pizazz, who has a feat that lets him swipe a marker from another goblin to heal himself.
It's going to be a fun weekend! Hope to see you at Origins and Free RPG Day!
Mike Selinker
Adventure Card Game Lead Designer