Well, this is it. Years back, I began my freelance career with Paizo on a little book called the Giant Hunter's Handbook. Here I am years later actually working at Paizo and getting to close the book on the Player Companion line. It's kind of a bittersweet moment as I've come to grow the line, but I know its new, younger sibling, the Lost Omens World Guide, will be a great line in its own right!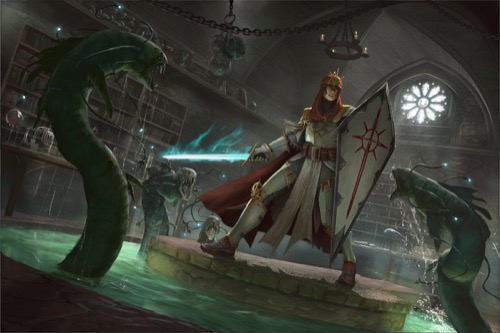 Illustration by Nathanael James
To celebrate the Player Companion's ride off into the sunset, we wanted to go out with something big. This is how Pathfinder Player Companion: Chronicle of Legends came about. There's a lot of material in the ten years of Pathfinder First Edition's history. From humble beginnings with the Advanced Player's Guide to the fantastic and powerful Mythic Adventures to the weird and enigmatic Occult Adventures, there is enough material to run games for years to come. However, there are always stones to be turned! We wanted to take a chance to poke around in the less explored sections of the game and blaze new trails while we still had our chance and this book was our shot at doing just that! To best present all of the fresh new ideas we wanted to present, we decided to present the book as if it were snippets and entries from the various issues and volumes of the Pathfinder Chronicles. Each section has a fun little excerpt from a volume that presents the exciting ideas of the section and hints at some of the great stories throughout Golarion's history.
Chronicle of Legends is packed to the brim with brand new options that carve out new mechanical space for first edition. One of these options is the new exemplar traits. These traits are more powerful versions of the traits you know and love except that they can grow in power based on your other traits. For example, the Traveler of a Hundred Lands trait allows you to gain more class skills for every two regional traits you have. Another set of new options are the battle standards for cavaliers and samurai that will enable you to replace your banner with a new standard that gives a different set of options or the gunslinger and swashbuckler renowned deeds that swap out existing deeds for new abilities.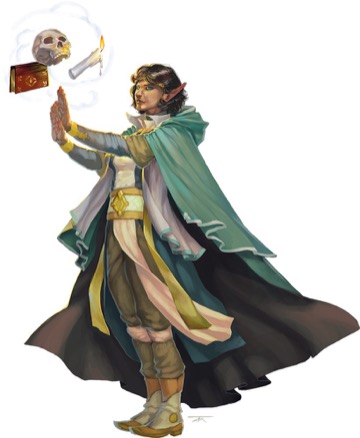 Illustration by Alyssa McCarthy
For those with a spellcasting bent, there are several new options to show your mastery of magic. You might unlock the secrets of powerful spells like rival's weald, which can permanently transform your enemies into trees. Instead, you can take the Magic Trick feat to expand your prowess with specific spells. The feat allows a spellcaster to concentrate a fireball into a smaller area that deals more damage or even break it up into smaller explosions that you can toss all over the battlefield.
We also have new magic items with a twist for you! You can look into special items known as legacy items. These unique magic items from Golarion's history grow in power alongside their owner and even become more powerful after completing specific tasks. If you wear Amatatsu Aganhei's trailblazer's boots, you will be quicker and hardier in dangerous environments. If you manage to walk 1,000 miles in the boots, you can also designate your surroundings as your favored terrain. In addition to legacy items, we also have new equipment sets. These are specific items that grow in power and even grant new abilities as you collect the set. Collecting Beastmaster's Will grants you the movement of the great beasts of nature and eventually the hunter's animal focus ability.
As many groups will be wrapping up campaigns in anticipation of second edition, we wanted to provide support for high-level characters as well. It doesn't get any higher than 20th level, so we have new capstones for these characters! These include the likes of the inquisitor's team leader ability that allows her to share several of her teamwork feats or the kineticist's unbridled power ability that empowers her blasts. If you prefer, we also have generic capstones that are available to most any class like the perfect body, flawless mind ability that allows you to increase your ability scores to legendary amounts or won't stay dead which allows you to come back after death over and over again. Whether your class is core, alternate, base, hybrid, occult, or unchained, you have a new capstone option!
What if you have a prestige class, though? Well, we have something for you, too! The prestige class has gone relatively unsupported for years, so we wanted to make up for lost time. This book presents new feats for each of the prestige classes in the Core Rulebook. This includes feats like Storm of Arrows that allow arcane archers to target twice as many foes with their hail of arrows. We also have two new prestige classes, the esoteric knight and ritualist, to provide support for some of our occult classes. In fact, we had so much support for our prestige classes that we couldn't fit them all in the book! One of the options we wanted to present were new archetypes specifically for prestige classes. Since we don't have space in the book for them, you get them here, our treat!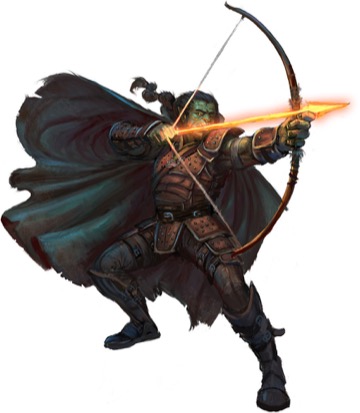 Illustration by Michele Giorgi
Prestige Archetypes
The following archetypes are available for prestige classes. These archetypes replace specific abilities of the prestige class much in the same way that archetypes do for standard classes. Each prestige archetype has unique requirements that replace the prestige class's standard requirements. You must meet these requirements before you can take the first level of the prestige class with the associated prestige archetype.
Deadeye Devotee (Arcane Archer Archetype)

Dedicated followers of Erastil become closer to their god by mastering archery and caring for each other. They can tap into the power of the Elk Father, who guides and empowers their arrows.

Requirements: To qualify to become a Deadeye devotee, a character must fulfill all the following criteria.
Alignment: Lawful good, lawful neutral, or neutral good.
Deity: Must worship Erastil.
Base Attack Bonus: +6.
Feats: Point Blank Shot, Precise Shot, Weapon Focus (longbow).
Spells: Must be able to cast 1st-level divine spells.
This alters requirements.

Spells per Day: At the indicated levels, a Deadeye devotee gains new spells per day as if he had also gained a level in a divine spellcasting class he belonged to before adding the prestige class. He does not, however, gain other benefits a character of that class would have gained, except for additional spells per day, spells known (if he is a spontaneous spellcaster), and an increased effective level of spellcasting. If a character had more than one divine spellcasting class before becoming a Deadeye devotee, he must decide to which class he adds the new level for purposes of determining spells per day.
This alters spells per day.

Energy Arrow (Su): At 4th level, when casting either a cure or inflict spell, a deadeye devotee can create an arrow composed of positive or negative energy. This ability allows the devotee to use the bow's range rather than the spell's range to make a ranged touch attack. The physical damage that would be dealt from a mundane arrow is converted into additional damage to the inflict spell or into additional healing for a cure spell. A spell cast in this way is a standard action and the deadeye devotee can fire the arrow as part of the casting. If the arrow misses, the spell is wasted.
This replaces seeker arrow.
Thought Thief (Arcane Trickster)

A thought thief will happily rip ideas from their victim's head and their gold from their purse.

Requirements: To qualify to become a thought thief, a character must fulfill all the following criteria.
Alignment: Any nonlawful.
Skills: Disable Device 4 ranks, Escape Artist 4 ranks, Knowledge (arcana) 4 ranks.
Spells: Ability to cast mage hand and at least one psychic spell of 2nd level or higher.
Special: Sneak attack +2d6.
This alters requirements.

Mental Assault (Su): At 3rd level, once per day as a standard action, a thought thief can pinpoint a target's trauma and exploit weakness with a deluge of psychic power. This is a melee touch attack that deals damage equal to her sneak attack damage and grants the thought thief control of the target as dominate person for a number of rounds equal to her thought thief level. A successful Will save (DC = 10 + the thought thief's level + her Charisma modifier) negates the dominate effect. A thought thief can only use this ability against a target that is susceptible to her sneak attack, such as a target she is flanking. This attack has no effect on creatures without an intelligence score. At 7th level, a thought thief can use this ability twice per day.
This replaces impromptu sneak attack.

Unseen Compulsion: At 5th level a thought thief can hide the effects of any spell she casts with the mind-affecting and compulsion spell descriptors. Creatures that observe her casting such a spell can attempt a Sense Motive check to notice the spell (DC = 15 + the thought thief's ranks in Bluff + the thought thief's Charisma modifier). Creatures that fail their check are unaware of any effects of the thought thief's spell.
This replaces tricky spells.
As you can see, there's a lot to love in Chronicle of Legends. Make sure to snag your copy from paizo.com or from your local gaming store. It's going to be legendary!
Luis Loza
Developer