We've surpassed our goal of 1,000 backers for the Kingmaker 10th Anniversary crowdfunding campaign! This means all backers have unlocked PDF copies of People of the River and Guide to the River Kingdoms.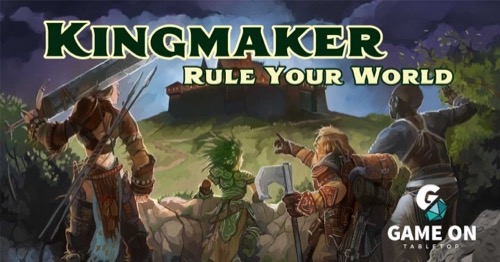 Our next goal is to reach 1,500, where all backers will be granted:
8 Scenarios: Each of these Pathfinder Society adventures adds a lot of flavor to the River Kingdoms, and each can be completed in around 4 hours. They're perfect for side quests or for jumping off points to future adventures in the Kingmaker Adventure Path.

Pathfinder First Edition Boon—Aldori Dueling: Boons are in-game rewards granted to players that are above and beyond what a basic Pathfinder Society character begins with. In this case, you gain the Aldori Dueling boon, which grants your character proficiency with the iconic Aldori dueling sword. These will be delivered in June to backers paizo.com accounts.

Pathfinder Second Edition Backgrounds—Future River Regent and River Pirate: In Pathfinder Second Edition, choosing a background is a key part of building your character, granting unique flavor and providing two ability score boosts, training in a specific skill, Lore skill training, and a specific skill feat. This bonus unlocks two new backgrounds for you, tied to the River Kingdoms. These will be delivered in mid-July to backers paizo.com accounts.
We're also happy to announce that the Kingmaker Adventure Path will soon be sanctioned for Pathfinder Society play! Once sanctioned, rules and chronicle sheets will be available from the Additional Resources page and Adventure Path volumes added to our reporting system.
Help us reach 1,500 backers on the Kingmaker 10th Anniversary Campaign and stay tuned for more exciting unlocks!