As excited as we were to construct the Starfinder Beginner Box as a fun, intuitive, and effective introduction to the Starfinder universe, we were also daunted by the challenges of trying to make a complete game that did justice to something we first presented in a 528-page rulebook. Even just the Tactical Rules chapter of the Starfinder Core Rulebook is more than 50 pages long, which would eat up more than a quarter of the pagecount we had in the Beginner Box rulebooks that also needed a solo adventure, introductory adventure, an introduction to numerous RPG concepts, advice, character classes, setting material, and so much more.
Early on we had to make some tough decisions about what our goal was for this product, and how our goal would inform our design choices. One of the things we wanted this product to do was serve as both an introduction to Roleplaying Games in general, and an introduction to the most key concepts of Starfinder in particular. When we were discussing which rules to keep, which to alter, and which to cut entirely, we had to balance those design goals with things like the limitations of our page count, wanting to be playable quickly from the time the box is opened, and giving enough material that a group could continue to play with their GM making new adventures once all the pre-written encounters have been experienced. That lead to the decision to create a one page set of rules for modifying and even building enemy creatures from scratch, so GMs would not be limited to the small number of creatures we had room to present with full stat blocks.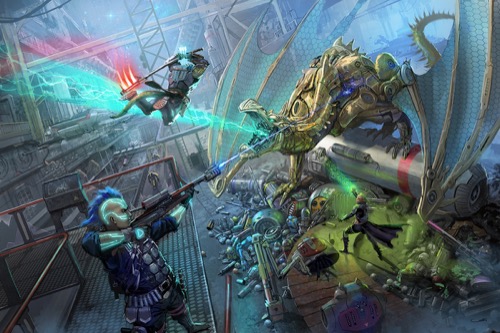 Some decisions were based on a combination of concerns. We felt we wanted to have as many of the playable races and classes from the Core Rulebook as possible, but knew we could do all the core races, and legacy races, and all the classes, especially given we wanted each class to tell you how to build a character. In the end, we decided we needed to cut at least one class, and the solarian was clearly the one that needed the most complex explanations of its different rules. Since our iconic solarian is a kastha, we also removed that as a playable race so all our remaining iconics could represent one class and one race.
In other cases, we had goals that drove us to add additional components. The desire for the game to be a complete experience in a box meant it had to have dice, and character pawns, and a map. Joe Pasini specifically had the great idea to add player reference cards with things like the actions a character to take each turn clearly spelled out. We hadn't originally planned to have that kind of stand-alone player aid, but it was immediately apparent how useful that would be to simplifying the process of being able to play and learn the game, so we took the time to design them and added them to the components box!
It's also important to acknowledge how much we leaned on the design choices of people who have made entry-level boxed sets before us. Many of the Starfinder team have fond memories of some specific early introduction to RPGs, and we discussed what made those experiences fun and memorable, and what we thought we could improve upon. The fantastic work done on the 1st-edition Pathfinder Beginner Box was a crucial road map for us, and while we often decided to take different twists and turns in our design challenge, it was extremely useful to have such a successful product as a starting point, allowing us to stand on the shoulders of giants.
Owen K.C. Stephens
Starfinder Design Lead