To date in the Core Principles series, we've covered adding more story, varying the challenge, reducing complexity, encouraging teamwork, and rewarding heroism in the new Pathfinder Adventure Card Game: Core Set. Now we're going to tackle another important design principle: injecting more drama into the game. One of our biggest tools to do that is embracing the vagaries of chance. The game comes with dice for a reason, and we wanted to change how we use them and give you even more ways to set yourself up for great payoff or greater disaster.
An early principle of Core design was establishing that uncertain outcomes are a lot more interesting than certain outcomes. We attempted to inject more chaos into the system in a few key ways. Core players have many ways to empower their characters and encounter exciting challenges, and there is almost always a chance that occasionally the dice will backstab them (or foot-stab them, in the case of the d4). We wanted more tools for managing chance, and fewer tools for removing it, extending the "lean into the fun" approach.
Now, that doesn't always mean increasing the number of dice. More dice isn't always more chance, because you can add certainty when you add more dice. One of the big lessons that we learned from the first several Adventure Paths is that, as characters grow over time, it's possible (in fact, pretty common) for players to choose feats and options that accumulate large bonuses to rolls. The more you can add a scaling bonus, like from a mythic path, marksman's bow, or cohort, the less the dice matter. Often, especially in large groups, players could find themselves attempting checks with a static bonus so high that they could not actually fail the roll. This was one of the reasons we removed the ability for all the characters to play blessings on a single check.
While there's a lot of fun to be had in coming together as a team to demolish a check, this is one of those cases where we as designers might be giving out "too much candy"—robbing those critical moments of tension and excitement. With this in mind, we've adjusted our design philosophy a bit, so that we're more often adding dice in areas where we might have previously added static +1s or +4s. We want Harsk, Lem, Seelah, and Valeros adding a d6 or d8 to your roll, not a d4+1 or d4+2. More variance leads to more suspense leads to more excitement leads to more fun.
Core avoids automatic success in most aspects of the game, especially against banes. Automatically succeeding on a combat check against the villain can be fun occasionally, but it's mostly bad for the game. Not needing to roll recovery checks for Seoni's spells? Sure, that's a pure quality of life improvement that sets Sorcerers apart from other casters like Ezren and Kyra.
Sajan loves throwing blessings on his checks, recharging any blessing he plays on himself. Or 2 or 3 blessings, if it's an Acrobatics check, combat check, or even an Acrobatics combat check. He also gets some interesting power feats for manipulating the dice he rolls, letting him really strive towards self-perfection. If he's not using a weapon, he can add a couple of extra dice. That said, Sajan also gets to add a card's level to his unarmed attacks. Many higher-level weapons grant static modifiers, and Sajan shouldn't fall behind there.
When redesigning Harsk for Core, we really wanted to hew more closely to his RPG story. Harsk's origin story involves him getting revenge for his brother's death using crossbows and axes against Giants. So, bonus dice for axes and crossbows, and against Giants. And his Ranger assist power lets him assist anyone (including himself) anywhere for another die. That d4 becomes a d6 instead of becoming a d4+1, though.
The Frost Longspear shows why only some weapons grant static modifiers. Energy weapons, in general, are following the RPG's lead in adding extra dice, and also allowing you to choose to turn off that extra die when needed. For those of you worried that a focus on more dice instead of static bonuses will make the game too unpredictable for you (some of us try to avoid rolling important rolls if we don't have at least an 80% chance of success, and what do you mean you haven't calculated the odds?), there are plenty of ways to reroll in the system, like the new design for shields, or the previously mentioned hero points. And if you're unlucky enough to fail after rerolling (Hi, Gaby!), your friends might be able to avenge you.
Healing is also more "consistently random" (in game design, that's definitely a thing!). Time and time again, we've experienced regret due to targeted healing taking away the fun and uncertainty of what card is coming up (and also for sometimes breaking the game). Now, the new heal rule always heals random cards from your discards.
Sometimes we want a story bane to cover variable options. Not all drakes breathe fire and not all elementals are immune to it. When we need them to be fixed for a scenario, we can declare that it is always a particular result.
Sometimes you need to encounter the danger, but there isn't just one and you don't know for sure what you're going to encounter. For example, a scenario might tell you the danger is a random Undead from the table. Maybe it's an Ancient Skeleton (yay!). Maybe it's a Vampire (boo!). And don't worry if you can't yet imagine fighting a Vampire. If the result you roll is higher than the adventure number, you just reroll.
That Story Bane Roster can also be used when you want to generate an entirely random story bane or story bane type for a random scenario. What's a random scenario, you probably ask? It's a new concept introduced in Core and expanded in Curse that lets you choose and/or randomly generate all of the requisite details for a scenario.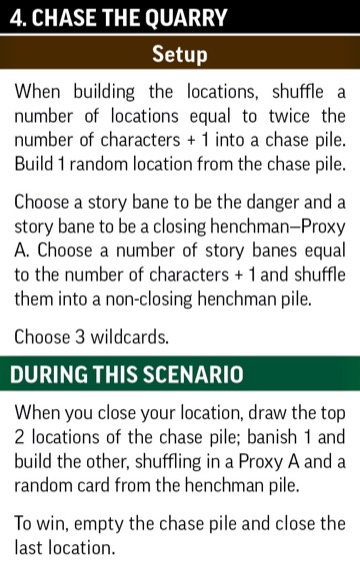 Something you hunt, not an open pit mine. They don't run very fast.
For example, Core's Random Scenario 4: Chase the Quarry steps you through a process wherein you select a location theme (Sacred, Underground, Urban, or Wild) then get a number of locations equal to twice the number of characters + 1 (and at least half of the locations have to have the trait for the theme you selected).
You then choose a story bane to be your quarry that you're chasing, a story bane to be your danger, and another stack of story banes equal to the number of characters + 1 to be not so friendly inhabitants of the locations you're chasing through.
Just select 3 wildcards to provide interesting scenario conditions and you're ready to start your chase.
Chase the Quarry is extra-random because as you're chasing your primary story bane from location to location, you are presented with a choice of two random locations to continue your pursuit. Your quarry is shuffled into the location chosen, as is another story bane that happens to be lurking in that location. Sometimes a little mix of surprise and choice is really excellent.
There are six random scenarios in Core and two more in Curse. We hope to introduce more over time. We haven't done out all the math to tell you exactly how many different scenarios you can create with these tools, but we feel comfortable stating that with the nearly limitless options available in these random scenarios, on top of the already healthy number of normal scenarios, you'll be able to play your hearts out with the Core Set and Curse of the Crimson Throne.
Keith Richmond
Adventure Card Game Designer