We're hard at work training for the release of Pathfinder Second Edition, a task that requires precision of mind, feats of endurance, and the patience of a coiled viper. The task would be next to impossible if we didn't have such an inspiring example in Sajan, the iconic monk, who strives every day to perfect himself and those around him. Enjoy the following piece of short fiction from James L. Sutter in the next entry into our series of Iconic Encounters—brief vignettes of the iconic characters showcasing the myriad stories you can tell with Pathfinder Second Edition.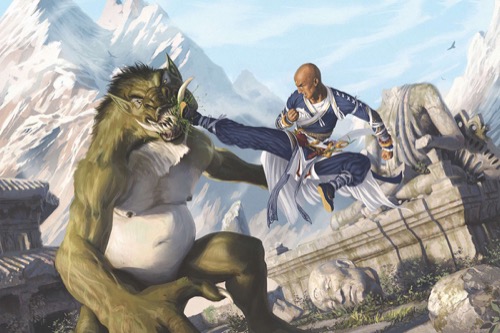 Illustration by Robert Pitturru
Claws large enough to take Sajan's head clean off whispered past his shoulder, sliding through the air where he'd been a heartbeat earlier. The troll caught himself, following up with a kidney strike that could have eviscerated a horse, but too slowly. Sajan stepped inside the troll's guard, the combination flowing smoothly. Gut, gut, face, throat—his arms pistoned as he struck, the sound of each fist's impact blending with the others like raindrops in a storm.

The troll staggered backward, pushing Sajan away with a clumsy front kick, abandoning any attempt at grappling in order to put some space between them.

It was the wrong move. Sajan took two steps forward and launched himself into the air, rolling to his left. His chambered right leg shot out, heel catching the troll in the cheek with all the force of his momentum. Bone shattered.

Both Sajan and the troll dropped to the ground, but only Sajan landed on his feet. The troll lay on the paving stones, chest heaving as he blinked uncomprehendingly up at the hawks riding thermals high above.

Sajan leaned down and extended a hand.

"Again?"

"With you?" The troll accepted Sajan's hand, threating to pull the monk off his feet as he lurched upright. He reached up and shoved his broken jaw back into place with a crunch. "If I enjoyed hurting myself, I would have stayed in Kaer Maga and become an Augur."

Sajan grinned and slapped the troll's enormous shoulder. "Quit whining—some of us actually have to live with our injuries. In ten minutes you won't even remember that I hit you."

"Not true." The troll led him across the practice yard to the water barrel. Ignoring the dipper, the giant lifted the entire thing and took a long drink before setting it down again. "I won't be forgetting that anytime soon." He shook his head. "Tusks, Sajan—if that's how you fight when it's all in good fun, I'd hate to see you angry."

Sajan lifted the ladle, dribbling water over his shaved head. "That's my secret, Jora: I never fight angry. Anger clouds the mind, makes you stupid. Slow."

Jora raised one bushy caterpillar of an eyebrow. "Never?"

Memories rose unbidden: A battle. A lord. A hard woman with his own face.

Sajan frowned. "I—"

A gong rang. Both Jora and Sajan spun, snapping to attention. Across the yard, the temple's huge bronze doors swung open, unleashing an orderly procession of monks. And behind them...

Sajan bowed low, Jora only a heartbeat behind. "Master! You honor us."

The old woman approached. She was tiny, her silver hair bright against the deep blue of her sari, yet her ancient feet made no sound as they crossed the weathered stones. Her callused palm touched the back of Sajan's head, as gentle as a sparrow alighting.

"Sajan." Her voice was high and strong, forged on countless battlefields. "You've trained well in your time with us, yet the time for study is past. I have seen the path that Irori has set for you, and it is long—long before you came to us, and longer still once you leave. Yet before you go, if you would be a full son of the Hidden Peaks School, you must pass one final challenge."

Sajan closed his eyes.

"Tell me what I must do."
If you liked this week's Iconic Encounter, be sure to check back next Thursday for another exciting entry in the series. Until then, Pathfinders, keep your ki focused and your minds open.
Mark Moreland
Franchise Manager