We're now over a month into our Iconic Encounters web series, so it's only natural that we'd get to Lini, the iconic gnome druid, sooner rather than later. This week's piece of flash fiction from James L. Sutter finds the intrepid adventurer alone in the Darklands with only her faithful companion, Droogami, to aid her in battling a sinister, fleshwarped foe.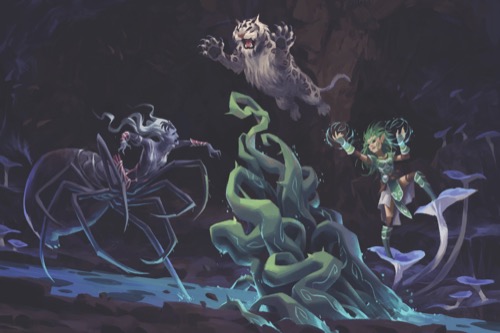 Illustration by Sam Yang
Lini ducked just as the spider-lady flung a gob of green acid. It spattered across Droogami's fur instead, sending up a waft of sickly acrid smoke. The leopard snarled, contorting in pain.

"Droo! Don't bite it!" Lini closed her eyes, stretching out her mind-hands to feel for the big cat's wound. There—a twisted, blackened feeling, like the trail of a summer wildfire. She reached out to the life around her, begging and borrowing from the mushrooms and water bugs of the strange cave, redirecting their shared energy. In her mind's eye, she pictured rain pattering down across that forest scar, feeding dormant seeds, calling forth the first green shoots of regrowth.

She opened her eyes. Where the acid had burned, the leopard's flesh had healed to gray-pink scar tissue, already beginning to sprout fur.

Droogami yowled again.

"Oh, hush! It'll grow out!" Lini turned back just in time to dodge a swipe of the arachnid abomination's claws.

The fleshwarp shouted something in a language that sounded like snapping twigs, but that Lini was pretty sure wasn't the language of twigs. If twigs could speak to anyone, Lini was fairly confident they'd talk to her, not this gross spider-lady.

And she really was gross. Who'd ruin a perfectly good giant spider by fusing half an elf to it? Let alone a rude one like this.

One of the spear-like spider legs shot out, catching Droogami in the chest and flinging the cat sideways against the wall. Droogami hissed and surged back to his feet.

Definitely rude. Lini fell back toward the mushroom patch and reached for the green essence that flowed through nature.

Not, like, literal green—everything growing in these caves was purple or glow-pink or fishbelly white. But it was all still part of the green within Lini, Droogami, and even the fleshwarped dark elf: the endless cycles of the natural world that bound all things. The things that grew down here might not match the hills and forests she was used to, but that didn't matter. Being a druid meant finding the natural in everything. You took your forest with you. She reached out to all the little lives—the skittish minds of the crawlers and burrowers, the sleeping spirits of the fungus, the unseen parasites in their water-drop empires—and asked for help.

They answered in a rush, vines bursting forth from nowhere to tangle the dark elf aberration's legs. She screeched and fell sideways, slashing with her claws, but for every vine she severed three more took hold. She turned toward Lini, one fist wreathed in black flame.

Droogami pounced, landing on the angry arachnid from above and driving her down into the writhing mass. The vines immediately wrapped him up as well—there was only so much discretion you could ask from a plant, magical or otherwise—but unlike the spider-lady, he had no interest in breaking free. As the vines bound them closer together, he snarled and took the dark elf's neck in his mouth, biting down just hard enough to draw blood.

The fleshwarp went still, flame winking out as she took the hint.

"Sorry about his breath," Lini observed in the language of elves. She picked her way closer, hopping from mushroom to mushroom. "I've tried to show him how to scrape his teeth with twigs, but he's too stubborn. And you wouldn't believe some of the things he's eaten down here." She wrinkled her nose. "Or maybe you would. I don't know what you believe. That's your business." She seated herself cross-legged at the edge of the vines.

Through the waving tendrils, the spider-lady watched the gnome with angry, unblinking eyes. Lini drew her scythe, tapping it thoughtfully against her cheek.

"My business, on the other hand, is finding where those slavers took our friends. And since Droogami here can smell them on you, we'd like to ask you a few questions..."
If you liked this week's Iconic Encounter, you won't want to miss next week's exciting entry. Until then, Pathfinders, may your circle be unbroken!
Mark Moreland
Franchise Manager