PaizoCon 2019 is quickly approaching—join us in Seattle, WA over the four-day Memorial Day weekend and play games, attend seminars, roll dice, shop—and celebrate all things Paizo!
The Roll For Combat Starfinder actual play podcast sent multiple people to PaizoCon 2018 for free, and this year they're at it again. They're also expanding their contest and making anyone in the world eligible to win a trip to PaizoCon 2019 in Seattle!
For those unfamiliar with Roll For Combat, the podcasters are playing their way through the Dead Suns Adventure Path, as well as the occasional Starfinder Society adventure. They also regularly host Paizo guests on their show—both as interviewees and as guest players. Over the years the show has hosted Erik Mona, The Order of the Amber Die, Thurston Hillman, John Compton, Stephen Radney-MacFarland, Jason Keeley, Amanda Hamon, James Jacobs, and more. Some of them even developed new Starfinder gear just for the show (which you can download for free from the Roll For Combat Discord channel).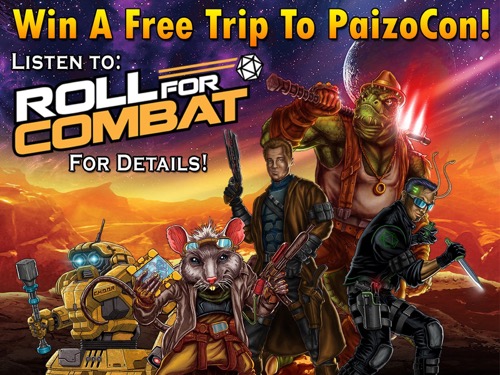 So how does the contest work and what can you win? First, the prizes: the winner will receive a trip to PaizoCon 2019 including airfare (or a portion thereof for some international locations), a hotel room at the DoubleTree, a 4-day pass to PaizoCon, and a ticket to the PaizoCon banquet.
How to Enter: Listen to the show starting with Roll for Combat Episode 70: "Never Give Up, Maybe Surrender?" and continuing until Roll for Combat Episode 76: "The Slug Defense". Although episode 70 starts at the beginning of Dead Suns Book 4, The Ruined Clouds, GM Stephen provides a full recap of the adventure-to-date before starting a new book. It's easy to jump right into the show without missing a beat!
During each episode, you will be posed a simple question, such as "how many crits occurred during this week's combat?" Take notes on these answers as they'll be required for entry.
Once you have all your answers, just head over to the Roll For Combat Contest Entry Form, fill out all the fields, answer one question from each episode, and you'll be all set!
The winner(s) will be randomly selected from all correct entries and be announced on April 23, 2019 on Episode 81 of the podcast. Wait, did we say winner(s)? Well, last year Roll For Combat initially was going to only send a single person to PaizoCon, but decided to extend the contest two additional weeks and ended up sending a total of three people to PaizoCon. Will they do this again this year? Who knows, but if history is any indication there is a good chance they will!
What if I don't win? Have no fear, explorer! Paizo will be livestreaming many of the seminars on the our Twitch Channel.
Jim Butler
VP of Marketing & Licensing
Disclaimer: Paizo is not a partner in this contest; prize obligations remain solely with Roll For Combat. Rules and Restrictions apply. Head over to the contest page to see the fine print.