Hello! Hello. Hello again, to some of you.
It's been a while since I've done this, written a blog for Paizo. About four years, in fact, which seems at once unbelievably historic but also just yesterday. Four years ago is when I said goodbye to Paizo so I could go out and see the world. Now, I have returned to find a place both strange and familiar, filled with faces I recognize and a few I don't. The cubicles are on the other side of the building now. There is a new Costco next door. The post office across the street seems smaller, though it isn't.
The first thing I noticed upon reentering Paizo's doors is how quiet the office still is. This observation may sound sobering, but it is in fact quite a good thing, no, a great thing. There's a hum of patient discipline within these halls, where the vibration of the air conditioner is punctuated by the clicking of mice and the tapping of keyboards, the shuffling of papers and the murmur of creative consultation. This is a stark contrast to the world outside, which is fast, loud, and impatient, where you can pay at the register and have your soy vanilla no-foam no-milk latte in your hands in ninety seconds, where you must listen to the sounds of the city outside your window, the crash of trash in the garbage bin and strangers yelling into the night and neighbors playing strange, nauseating music. Between the cocoon-like walls of Paizo, though, there is a ward against the everyday annoyances of the outside world. There is a scholarly tranquility here that I have yet to find almost anywhere else.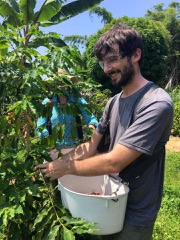 Where have I been, anyway? Around, mostly. I tried a stint in marketing. I lived on a farm in Hawaii for eight months. Most people ask me about that. The farming, not the marketing.
Many people say they wish to move to Hawaii, but few actually make it past the first step. In September of 2017, my wife and I sold all our belongings, put what little was left in storage, and took a one-way flight to the Big Island. We had no return date, no idea whether we'd even want to return. We were prepared to make a go of living in this strange new world and carving out a home of our own amid palm trees and lava rocks. And we were prepared to face many trials on our quest, an adventure that would have us labor upon rocky soil and live beneath a tarp alongside wild nocturnal pigs.
There are many monsters in Hawaii, a fact which may surprise you. Big beautiful fish and big ugly centipedes alike are found in abundance. Powerful volcanic goddesses and mythical pygmy natives and invisible animal spirits lurk in the verdant hills. An array of amazing birds can be seen only on these remote isles: handsome 'io, brooding pueo, humble nene, and dazzling i'iwi. There are green spotted geckos, of course, but also color-shifting chameleons and draconian anoles and boisterous coqui frogs. Vermin like the Asian tiger mosquito and the cane spider and hundreds of species of semi-slug can give you quite a fright. It is a magical land as rife with beasts as it is steeped in legends.
During my time in Kona, I swam with manta rays and tiger sharks, explored volcanos ancient and active, witnessed flash floods and dry lightning, and sank my hands into literally tons of dirt. The fauna of Hawaii are loud and skittish but the people are quiet and friendly. It is an atmosphere of relaxation, where importance is placed on family, friends, food, and maintaining a healthy balance between mind and body, a phenomenon generally known as the spirit of aloha.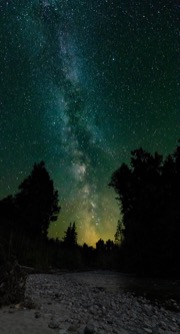 Spending countless days dozing in a hammock slung between two palm trees by the beach does strange things to you, it turns out. I quickly realized that voyages of the mind are just as important as voyages to physical locales, if not more so, for maintaining the aforementioned mind-body balance. A good book can teach you as much about life as an expedition to remote islands and can take you to equally amazing places. It may seem counterintuitive, but sometimes using less energy and taking things slowly, rather than continually pushing yourself to the limit, can make you a better, faster learner. This stillness of the heart is mandatory to appreciate the quietest things in life—gazing at the stars, swimming in the ocean, writing. Stillness is a skill that can be picked up quickly but that must be pursued relentlessly and with the understanding that there is no such thing as mastery.
Coming back to the mainland, I have discovered that you do not need to go as far as the middle of the ocean to uncover the wonders that surround us. In Seattle, gunmetal gray condos and shiny Teslas meet you at every turn, but it is still a rare day that you do not stumble upon some natural beauty—bands of cirrus streaking across a green sunset, a red-winged blackbird flitting to and from its nest, a coyote prowling raised gardens in a dusky neighborhood. But go far enough away from the city and you will encounter the stuff that promises to burn most brightly in the tangles of your memory—the reflection of the impossibly blue sky in a glacial lake, a lonely goat trekking a foreboding snowy ridgeline, the galactic core of our galaxy bursting from a layer of forest fire haze.
Based on my limited life experience, I have some basic advice for anyone who wants to take a step back from the grindstone and try to get re-centered: Take walks. Read old novels. Nap daily. Stretch your back. Watch birds. Breathe. Play.
The things I saw and heard and smelled and touched during my sabbatical reminded me why I love games like Pathfinder so much—because roleplaying games can take us to places that make us wonder, make us think, make us still. Sitting at a table with friends, away from the distractions of modernity, rolling lucky dice and maneuvering precious figurines, is a form of mindfulness that I think everyone should have the chance to enjoy. As I said before, you don't need to travel far to discover magic.
As any good adventuring party knows, it is vital to have a good home base from which to launch expeditions and to which to return for resupply. Perhaps that is why I have returned to Paizo's staff as a developer on the Adventure Path line. At Paizo, I can retreat to these sacred hallways, to the welcoming arms of likeminded explorers of fantastic universes, for potions of creativity and psychic salves. The journeys we writers undertake here are those of the human condition, of stories and games and characters and challenges that help players consider their own role in worlds both imaginary and real. Our efforts are of the utmost importance, I believe, because we create worlds that inspire people to look around as well as within.
I return to Paizo after four years of discovery—both self-discovery and discovery of others. Four years may not seem long to those of you who have been running the same campaign for decades, but it is long enough, perhaps, to return to an ancient craft with clear eyes and fresh breath. Enough to reexplore past passions and imbue future works with warm, steady energy. And enough, certainly enough, to once again brave the unknown with friends new and old.
Patrick Renie
Developer