Do you want to hear a scary story?
It all began on a cold, dreary winter's night. A thin mist covered the ground, and the streetlights did little to pierce the gloom. Most people were in their homes, huddling under blankets, sipping warm cocoa, and basking in the comforting glow of their television sets. Most sane people, that is. But one man shunned the comforts of the hearth to sit hunched over a laptop, typing furiously. The computer's sickly light emphasized his haggard appearance, making him look more like an animated corpse than a living person. He composed an unhinged manifesto of shadowy horrors, blood-curdling mutilations, and the seductive nature of evil. And when he was done, he slumped across the keyboard dead asleep, not caring about the nightmares that would most assuredly come.
…That man, dear reader, was yours truly! *lightning flashes* *thunder rumbles* And that screed I wrote was none other than the outline for the upcoming Signal of Screams Adventure Path! *more lightning and thunder* *also, a wolf howls in the distance for some reason*
Seriously though, this three-part space horror Adventure Path is the first Starfinder product that I had the pleasure of concepting and developing from start to finish, and I couldn't be prouder or more excited to share it with you. While I didn't actually spend any late nights putting it all together, I couldn't have done it without the entire Starfinder team (who helped brainstorm the spookiest of ideas) and all the terrific authors that agreed to work on this project! And of course, I can't forget the artists who helped bring these chilling visions to life, as well as the art, editing, and other departments here at Paizo that make sure you get the best product possible!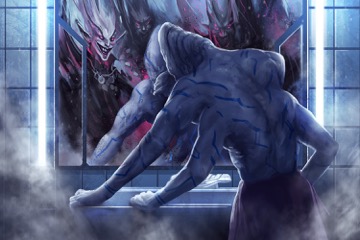 The first adventure, The Diaspora Strain, comes out very soon and sees a group of 7th-level characters get invited to the grand re-opening of a luxury resort asteroid in the Diaspora called New Elysium. The facility has been newly automated with a virtual intelligence program and the PCs, along with a handful of celebrities, will be the first guests to put the system to the test. I don't want to spoil any surprises, but of course, things don't go quite as planned. Author (and fellow Adventure Path developer) Chris Sims has put together a spooky adventure that will have player characters question their sanity.
In addition to some creepy new monsters and details on a lonely world accessible only through the Drift, this first volume features an article about a corruption system new to Starfinder that will get used throughout the campaign (by me) and advice on to run and play in Starfinder horror adventures by Epidiah Ravachol, author of the very popular indie horror RPG Dread!
What is the mysterious Signal of Screams? Find out this winter, if you dare!
Jason Keeley
Developer