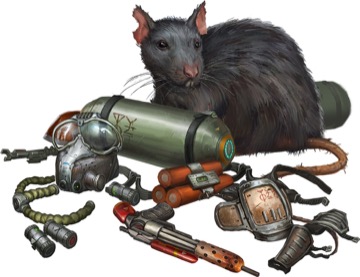 While much of the fun in Alien Archive 2 for players is looking at new playable species, there's much more player-facing content than just aliens to make into new characters. Like the first Alien Archive, we wanted to help describe the strangeness of a science-fantasy universe with rules elements any character can pick up and use.
Unlike Alien Archive, we made sure to create an index (Appendix 9: Rules Options) to list them all in one place for easy reference.
There are lots of items, including weapons (such as the phasic scythe), defensive items (such as the adaptive defense module), technological items (such as the plasma diverter), hybrid items (from the mi-go brain cylinder to the Shotalashu saddle), magic items (such as the calecor skull-globe), a surprising number of augmentations (six of them!) , and even a computer upgrade (the telepathic user interface).
Each of those is tied to a specific creature entry, in ways that help define that creature's place in the galaxy. For example, the glass serpent is a terrifying ambush predator that roams the blasted wastelands of Eox (though similar creatures have been found on dozens of planets, including many outside the Pact Worlds). The scales of a glass serpent can absorb and bend light, which the creature controls with its musculature to become invisible. While a glass serpent's skin isn't a continuous cloak of invisibility just because you remove and present it, it can be used as the basis for stealth technology, including the glass skin augmentation and lightwarp inlay armor upgrade (previewed below).
Lightwarp Inlay

Price: 5,000 Level: 6

Capacity: 10 Usage: 1/round

Armor Slots: 1 Armor Type: Any

Bulk: L

This specialized coating of glass serpent scales shifts its collective angle in response to localized electrical fields created by a delicate circuitry inlay, allowing the bending of light around you. You can activate this inlay as a standard action to become temporarily invisible (as the invisibility spell, save that the process is purely technological rather than magical). This invisibility lasts until you deactivate it (which you can do as part of any other action) or the inlay runs out of charges. A lightwarp inlay's charges replenish each day.
There are also two feats (Polymorph Adept and Squox Companion), which tie to specific new options, one of which is obviously an element of magic that so far Starfinder hasn't gone into—polymorphing.
A set of core rules present a flexible set of general guidelines for what happens when magic changes your form and then a set of variable level spells (polymorph and baleful polymorph, along with mass versions of each) give spellcasters access to those shapechanging powers. A number of forms are presented (from simple kalo form to more complex blue dragon and fire elemental forms) to allow polymorphing to be accessed quickly, but the rules are also presented to allow a player and GM to build forms for nearly any conceivable creature. After all it's a big galaxy out there, and there's no telling what weird things a character might want to change into!
Owen K.C. Stephens
Starfinder Design Lead