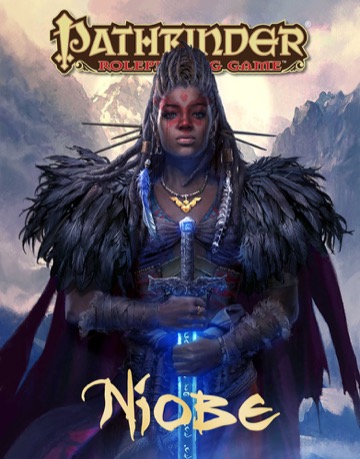 A while back, our friends at Stranger Comics, creators of the Niobe comic, launched a Kickstarter that had a reward level that included a limited-edition Pathfinder book that brought the world of Niobe into the Pathfinder rules, allowing fans of the comic and character to play within the fantasy world of Asunda. They recently launched a second Kickstarter, with the finished Pathfinder book including exclusive new art. I sat down with Sebastian A. Jones, Niobe's creator, and talked about roleplaying games and their inspiration on the world of Asunda.
Here's what Sebastian had to say:
What are your previous roleplaying game experiences that were an inspiration for Niobe?

Dare I show you my LARP outfits over the years?

Honestly, I found Niobe, or perhaps she found me, some thirty years ago amidst my adolescent fears hidden under the invisibility cloak of being too cool for school. People tend to see through that crap - she did.

Niobe would soon reflect my own ambitions, rage, and whatever raw emotions I was feeling. As I grew, she grew with me, a mirror of my own design and desire. A being of darkness and light, she would make the fantasy world of Asunda I was creating a better place, no matter the cost. As an outlet for Niobe and her world I created Stranger Comics, where I could tell her stories as well as other tales of conflicted characters. She was first introduced in The Untamed painted by Peter Bergting (Lord of the Rings), dubbed a "Frazetta Western," and then Niobe: She is Life coauthored by Amandla Stenberg (Hunger Games) and now... she is about to be deified in Pathfinder! (All of which are available on our current kickstarter, titled Niobe Returns).

I mostly GM'd, so sculpting Asunda was a constant. MERP and Rolemaster, First and Second Edition D&D, and a healthy dose of wielding foam swords kitted out in my Mum's bathrobe. (I did eventually level up to thrift store attire).

The stories (campaigns) I wanted to tell always had grand world changing underlying plots, but the seasonal arcs reflected what we would go through—the pain and beauty of coming of age, revenge vs. redemption, love vs. lust, and so on. I was usually inspired by my personal life and creators across all genres ranging from Kurosawa to Kirby, John Lennon to John Coltrane. How could we translate an emotional connection to gaming was important, so being in character was second nature, but I don't want to sound all melodramatic - we had a boat load of fun!

It also was apparent as a young mixed kid, that there were little to zero characters that reflected folks of color in these worlds I played in, unless they were a fetish sidekick, an obligatory dark elf, or the easily seduced Umbar in Middle Earth. And the stories told, as amazing as they were, well, I wanted them to reflect not only a global audience, but the duality of sinner and saint within us all.

That is who Niobe is, half angel, half demon. The chosen one. And anyone can be her, all they have to do is pick up the sword.

What are you most excited to see translated into Pathfinder?

All of it! I think the new races and feats that have been with me, Darrell, Josh, and the rest of the Asunda crew—to be able to experience them in an official Pathfinder game setting (no house rules lol!) is such a dream. Paizo are kicking ass with their designs on everything, I can't wait for folks to also share their own experiences in the same world, it has me geeked out. To everyone reading this, please check out the Esufey race… our elemental first born fairies, and of course Niobe's own paladinic type class, the paragon. Yeah, goosebumps.

Why did you choose Pathfinder for this project?

From a mechanic perspective I have played a lot of systems, and Pathfinder seems to have nailed down the perfect harmony of simple to complex. You can mold the character you want to play, in any way shape and form, while maintaining originality in a well-balanced gaming world. I love it! From a social standpoint, I love how the team at Paizo clearly believes that representation matters in a most authentic way. So, Niobe's world of Asunda fits in perfectly.

What are you most excited about seeing in the World of Niobe book?

Niobe herself—and all of the people that can now be her. That is just badass.

What from Erathune do you think would best fit in a roleplaying game?

MOOOOOOOOOG!!! Moog Thrak Gorbak, our resident Ogre Queen, ain't pretty but she will jack you up if you tell her otherwise. She killed enough of us when we were gaming. My co-creator Darrell May is responsible for this tons-of-fun menacing masterpiece.

Erathune, which is also available now in oversized deluxe hardcover on our Kickstarter, is probably the most gamerish and RPGesque of all our Asunda titles (plus it has Niobe in it). Four issues of full-scale war bedlam between Macgrom (dwarves) and Grachukk (great orcs) should rattle any roleplayer's senses, plus it ties in all of our other titles—and all of this is set in the icy mountains of Herfang with art by Hyoung (The Last of Us) and Sheldon Mitchell (Cable, Vampire Hunter D).

Regarding the question, I think what Darrell has created as far as a full town setting above ground as well as below, with trade routes, surrounding Isinniel (elven) and Urzoth (barbarian) clans easily lends itself to any campaign. Plus, I am excited to finally show off Soul Sunder, King Buxton Stonebeard's legendary cursed axe of Madraq (The Goddess of Death).

Every item across our various books will have runes on them, it is up to you to translate. Every race has a story to tell, every town has a past, it is up to you to dive in and explore. So click the Kickstarter link and roll d'em dice.
Currently, we're finishing up development of the World of Niobe Pathfinder book and hope to have it in backers' hands very soon. I hope you all have enjoyed this glimpse into another world.
Adam Daigle
Managing Developer